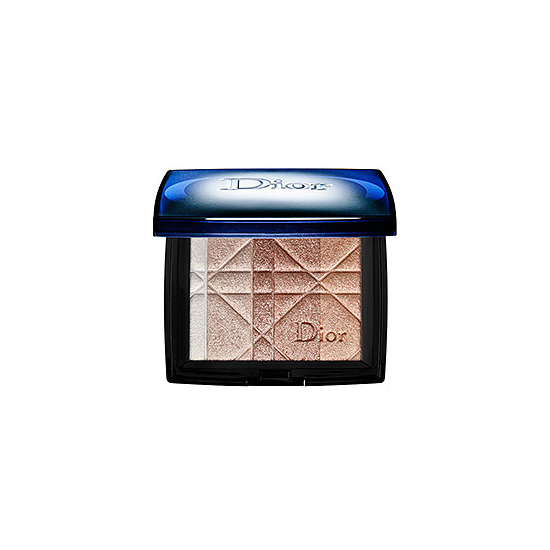 Rollover image to zoom
Reviews

Great Multitasker
I recently bought this and wow, I'm just blown away completely! I'm more of a natural makeup kind of girl, but when I go out at night I like to play around with darker shades. I bought this to use as a compact powder highlighter for summer and now I realize I can use this as highlighter, eyeshadow and even blush or light contouring! This is how I use this product...
First, I use the 2nd to RIGHT shade on my eyelids
Second, I use the center shade (the darkest shade) on the outer corner of my eye, blending into the crease
Third, I use the 2nd to LEFT shade to highlight under my eyebrows or the brow bone
Fourth, I use the 1st shade on the LEFT (the lightest shade) to brighten the inner corners of my eyes
Fifth, I swipe my blush brush across all the shades from LEFT to RIGHT and highlight my high points which is the C from brow bone to cheek bone, bridge of the nose and jaw line
Sixth, I use my blush brush on the 1st shade on the RIGHT (the coral, orange-y shade) then swipe that as a blush on my cheeks.
So 6 uses in all for how to do you're entire face with this awesome palette. All the colors work perfectly together, so there's no confusion or excess clutter when you're traveling. It's very summery and warm, perfect for pale skin in the summer time like myself.

Absolutely #1!
By far my most favourited item in my make up kit. This is the PERFECT highlighter and can be used as eye shadow to create a gorgeous bronze, beachy look. Absolutely beautiful shimmer that isn't too powdery looking - so you wont come out looking like a powdered donut! Even if you go back for a second application (think heavier night time make up, really glowing cheeks are beautiful) it wont look over done. Gives a natural sheen to the cheeks, brow bones, cupids bow, wherever you decide to put it - it works. Its a bit of a pricey product but for one that i use almost daily, i've barely gone through 1/8 of the product so its great value. Must have for sure.

i admit, the hype sorrounding this product got the best of me and i decided i simply must have it, even though my skin is oily and produces enough shine on its own :D and i didn't regret it. it is huge, around 10 grams, which means it will take me years before i run out of it. it gives me a beautiful sheen, not glittery at all, but sightly shimmery. when i first wore it, my boyfriend complimented me and said my skin looked fresh and glowing (not those words exactly, but something along those lines). i only apply it to the upper part of my cheekbones and sometimes under my brows which livens up my whole face. the color is quite neutral so it suits all kinds of blushes, from bronzy to cooler pink ones

Gives that rosey glow every girl wants!
I usually layer it over my blush on my cheekbones and use the lightest shade as a highlighter. first and foremost it does not make your pores look huge, great for people with oily skin, give you that glow everyone wants.can be used everywhere! even as an eye shadow!

I love this highlighter! This is great for oily skin because it's a powder. It gives a beautiful glow.the prices is crazy but I love it either way. I actually got it for much cheaper on eBay.

6-Star product!
I remember the day when I bought this beautiful highlighter!
I went to Sephora with the secure conviction of buy a 5-colour eyeshadow compact and I bought this!
I love Dior products! And hopefully, I tried a few in the past! But I never considered try an expensive highlight, first because I have oily skin and obviously this is the kind of products that you don't need, and second because was a bit expensive (I live in Canada and taxes are high).
I wanted to buy a highlight eyeshadows and this is perfect for that. It's much product that the eyeshadows (5-colour compact) and you can use it everywhere! And if you have oily skin like me, doesn't enlarge your pores!

Sassybeth B.
Jun 21, 2012
Worth The Splurge
I bought this about a year ago and I must say it has been well worth the splurge. I have very fair skin and this acts as a beautiful bronze highlight. When I purchased it the makeup artist at Sephora suggested it as a bronzer. As fair and shimmery as this product is I personally cant recommend it as a bronzer but as a highlight it is STUNNING. The particles are finely milled so the shimmer is not stark or unnatural. This product is so universal that I not only use it as a blush or highlight but it makes a wonderful eyeshadow. The wash of color it gives combined with the sheen it gives, provides for a perfect neutral eyeshadow. I can recommend this product to anyone in search of a perfect bronzy highlight. I use it fairly often and have yet to hit pan.

Stephanie K.
Oct 23, 2011
Gives a great glow :)
when i first got this, i was a little scared of all the shimmers, but if you apply with a light hand on your cheeks, it really gives you that glow without transferring too much shimmer.
i like pairing this with my illamasqua blush "katie", add some mascara to my eyes, and that's it for my everyday makeup!
---