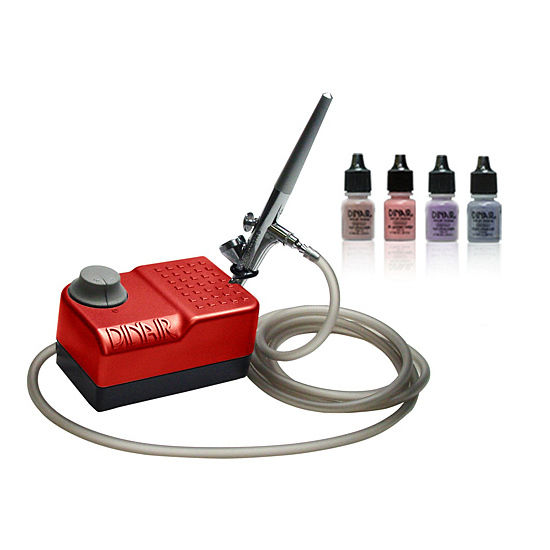 Rollover image to zoom
Reviews

Love It!
I have the Studio Beauty kit along with the winter collections that came out and I am In love with this system. I've done bridal make up and I can tell you they were all pleased how the makeup came out. Unless you practice, your makeup will look cakey and blotchy because you have to have that steady hand that continuously allows the makeup to go on evenly. I have had other airbrush systems before and the makeup and the compressor beat all of them x10. hope this review helps. :)

I LOVE LOVE LOVE my system! I've had it for two years now and I couldn't be more happier. It's small enough to fit on my vanity and it's not really loud. The makeup is amazing! I purchased mine in cotton candy pink. I just love how you can personalize it so that it shows your personality. LOVE LOVE LOVE

Great compressor
I love this system, but not the makeup. The adjustable pressure means I can tailor the airflow to my specific needs and the gun is simple to use. The make up however I found clogs the gun (despite thorough cleaning), doesn't look great on the skin and doesn't last.
The compressor and gun are fab - I do not regret buying them at all, but I wouldn't recommend the make up at all.

Flawless
I've always wanted an airbrush system for some time and when I was in school they had a dinair system, I was excited! I used it a couple of times and didn't quite get the hang of it. I bought a dinair system a few months ago and I love it! It's perfect for wedding's and photo shoots. The skin looks flawless every time!! I love it and clean up is easy!

Great Airbrush System
I have been using this system for over 1 year now. This is the second airbrush system that I have purchased. The 1st one was Luminess air, and that one only lasted me 9-10 months. This one is so much better. I have only 2 complaints about this system. I have an older one... so the compressor is super loud (I have read and heard that the newer ones have compressors that are not nearly as loud). And the other complaint is that it constantly gets clogged (even though I do a normal cleaning daily and a deep clean every 2-3 weeks). But enough with the complaints... this system is AMAZING!! I only do my foundation routine with this, and sometimes I will do my blush/contour.
After much practice, I decided to use my own concealer then apply the airbrush foundation. I do not think that the airbrush machine covers my dark circles well enough. It takes me about 3-5 minutes to apply my entire face (depending on if I have blemishes to cover). I dont normally use a face primer with it, only on occasion. I will use a face power when I am doing my makeup for a night look, but not normally for work or a day look. Only at times will I use a setting spray... normally only for a night out on the town.
I use 2 different colors to match my skin tone... a total of 4 (maybe 5 drops). One of the greatest things about airbrushing is when your skin tone changes (with season), you just have to mix colors to reach your correct tone. You dont have to go out and buy new foundation. I own 2 colors and they work the entire year (just a different amount of drops for each... depending on the season).
I own a few colors for eye color... and I have played around with them. I personally like to play around with my eye colors and different makeup brands (that is where I have fun with my makeup)... so I do not use Dinair for that. I primarily use it for foundation. It was worth every penny. Another great thing is that you can use other brands of airbrush makeup, as long as the makeup is water-based. With the 1st machine that I owned... using another product would clog the machine. It just wasnt possible. I have heard that you can use OCC airbrush makeup... I just personally have not tried it yet. I want to try it, I just do not know what colors to order. Dinair assists you with your purchase ONLINE. You send a current picture that shows your skin tone, and they tell you what to buy. It doesnt get much better then that. And they were right on target with my color.

machine is great just not thrilled about the Make up
I have oil skin. I get oily within an hour and half after I apply my make up. I tried to use this make up in hopes that I will not look so shiny so quickly. I love the Machine. It works great. I haven't used the pharmaceutical make up just yet. I look forward to using this. I would recommend the airbrush machine. It is portable and EASY to use. It takes lots of practice and GOOD LIGHT!! lol. This has been my first Airbrush machine. The make-up is just not great for my skin type. But I am still working on it. :) Definitely buy this airbrush machine. It's easy to clean too!!

Very Useful!
Love, love, love this product! I have tried a lot of other airbrush makeup brands and this one is my absolute favorites! The machine is really quiet and small, and you can even buy a battery pack so you can be portable. I also can tan myself and clients with this machine, you just have to buy a different brush. This machine is perfect for makeup and tanning people
---