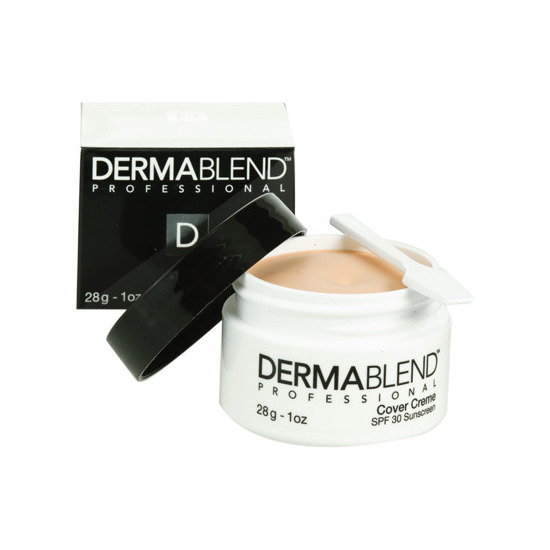 Rollover image to zoom
Reviews

Comes with a tool for slathering- always a plus!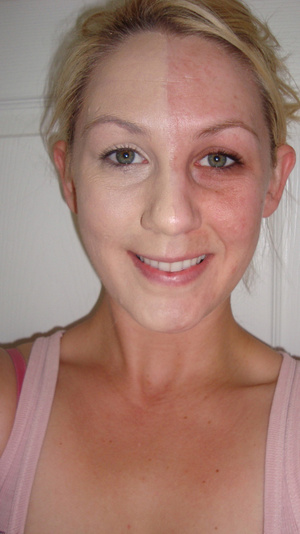 This is for heavy coverage, although if you used a light enough hand (and maybe a sponge applicator instead of your fingers) you could get away with a light finish. I have some serious skin issues that sometimes call for the big guns- that would be this product.
No one's face is just one color so I decided to invest in two shades and I blend accordingly. The makeup artist that turned me on to these products suggested I apply it with my fingers so that the product can heat up and blend more smoothly.
I really only wear this when I'm going to go out because it IS obvious that you have foundation on when you wear it. And be careful if you're starting to see some lines on your face because they'll look more like the Grand Canyon after you plaster this stuff on. I also always set this one with a finishing powder because it smears easily.
See photo below for a before/after using only DermaBlend (no bronzer, blush, or powder applied yet).

http://through-beauty-eyes.blogspot.com/2010/11/review-dermablend-cover-cream.html
The product is actually solid but can be easily melted with body heat. What I usually do is using the spatula that comes with it and scoop up a tiny bit of product (you don't need much product as it can be pretty thick) and dab it on areas that needs extra coverage and blend it outwards. It blends with your skin EXTREMELY well, giving you the flawless look. This cream gives you medium to high coverage, depending on how much you appy. However, unlike my Etude House Magic BB Cream and my all time favourite Revlon PhotoReady foundation (which I use when I am on a night out), Dermablend Cover Creme gives a matte finish instead of dewy finish.

LOVE THIS PRODUCT!
I am a foundation and concealer junkie...I was struggling with a bit of hyper-pigmentation from old acne scars for years...I dont breakout a lot, but ONE pimple would leave a mark for MONTHS...I've finally found a cleansing routine that basically keeps ALL acne at bay, and I also have a routine for scarring that ensures IF I scar, it is not there for long, its also cleared up any issues I have. With that said...I dont really need to use foundation, and I am constantly looking for products that allow me to look like I am wearing less and less makeup. For the record I conceal with MAC NW40, but I am approx MAC NC45, Illamasqua Skinbase 13, Revlon Colorstay Whipped Caramel, Milani Spiced Almond for reference. When using Dermablend...I dot the tiniest amount on any discoloration that I may have, a bit under my eyes as concealer, and run through my brow bone (if I dont highlight with a lighter concealer), add some mascara, bronzer/blush, and a light dust of Mac MSFN in Dark, and my skin looks flawless for the entire day. It is hands down the best foundation I have ever used, I love it so much that I am in the process of having this become my staple foundation for my makeup kit! It mixes well with other foundations, it wears flawlessly, and the packaging is awesome for travel, and you get a TON of product for the price to be honest! Because this product applies "texture free" you only need to apply it where needed, so a tiny bit goes the longest way. I really suggest anyone that is struggling with skin issues, has skin sensitivity, has scarring, tattoos or other things that need to be covered, or just want flawless skin...give this foundation a try.

A little goes a long way
I use this mainly as a concealer under my MUFE HD. It's great because I have hyper-pigmentation around my jawline and the orange tones help to brighten and camouflage. This cream is dense and thick, so I'm glad it comes with a mini spatula.
A little goes a long way; I've seen this applied strategically for a "no makeup look" and as a more dramatic "look at me" application. The staying power is good, you wont need to touch it up during the day (I'm a student/teacher) especially if you set it with a powder.
The only con I can imagine is the price, but a jar of this will last an extremely long time.

This is My Everyday foundation.They have The PERFECT match for my skin tone and I absolutely Love it. Great coverage , medium to full. It is definitely buildable and does Not get cakey (at least for me it doesn't) i like that it is very smooth and easy to blend. There is a minor problem for me though , i have combination skin , dry in the outer part of my face and a bit oily on my T zone. So in My T zone the foundation does get a bit oily but everything is fixed when I apply my translucent powder. Therefore i Do not recommend this for Oily skin. Other then that I Love This foundation

Amazing product once you know how to use it
I bought this product b/c I have heard great things about it. At first... I really didnt want to spend that much money on something, but then when I saw how much you need to use... I WAS SOLD. The key to using this product correctly is to use very little. AND I MEAN VERY LITTLE. With the tinniest amount I can cover my under eye circles and broken capillaries under my nostrils. With the amount that I use... the jar will last me years! If you are interested in this... go to the counter and speak with the specialist. They will show you how much you need when you use it, and you will be amazed.
---