NatureLuxe Silk Foundation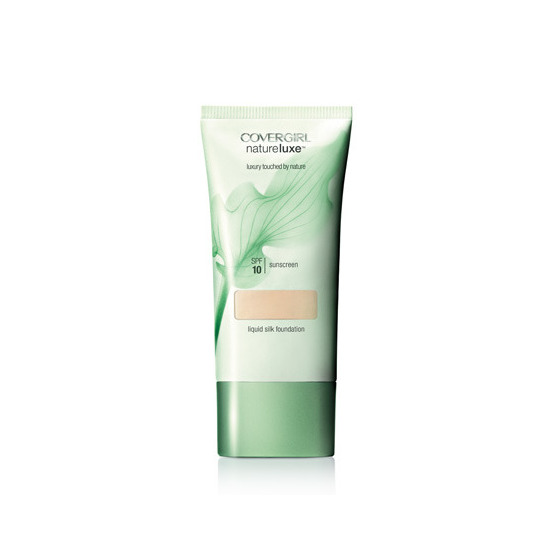 Rollover image to zoom
Reviews

Pretty good, some things though..
I think this product is okay, it could be better, for me I like natural products, this is perfect, but it has light coverage. I like full coverage because I have a natural red face. I need to use my tone corrector to even out my tone.
One thing I love about it is that it's super easy to blend, and it blends well. If you find a match for your skin, it will seem paler until you blend. I use a small eyeshadow brush (not used for eyeshadow) and dap the foundation on the spots I need so I dot have full face coverage. It works well for a natural look.
Overall a pretty good product, I might buy it again.

Best of all foudations
Ive used all other covergirl, revlon, almay and maybeline foundations but this one by covergirl was by far the best!
I have a very fair complexion and any foundation i ever tryed always looked orange on me, ive always got the lightest shade but this one was the best at maching my skin.
This looked very natural on my skin and felt like i had no makeup on!
It lasted soo long too!
One day i went to walmart to buy a new one and i couldnt find it anywhere, so i said hmm ok, it must be sold out, went to another walmart, wasnt there. Went to shoppers, wasnt there, asked the worker why there was none she said it was discontinued.. I was so disaapointed ive been trying all different brands of foundations since then and never found one i liked yet.. Was looking for about a year now, so unhappy

Not for me...
I bought this foundation awhile ago and had used it once or twice. Well a few weeks ago I saw a review about it and wanted to try it again - now I know why I stopped using it! It looked terrible; didn't blend well at all and looked flaky and almost kind of powdery. Maybe because it's winter? I'm not sure but it was awful! It does smell nice though, I might try it again in the summer and see if that makes a difference, but for now - 2 stars.

loved it!
this is a great foundation for summer! its super light-weight but you can build up the coverage. i personally dont like heavy coverage foundation so this is perfect for me especially during the summer time! it doesnt sweat off my face, though i found if i dont wear a base or primer underneath it only lasts for a few hours, not enough to get me through a whole day of school. it can also sometimes make you look cakey if you dont apply it very well. but overall i really do like this foundation. if it wasnt for the price i would definitely buy it again, it cost $18 here in australia, i would just wait until it goes on sale.

Sojourner W.
May 28, 2012
Perfect For Summer!
I have been on the hunt for a new summer foundation and this was one of the foundations I picked up. I am in the shade Chestnut and I have combination/oily skin. I really love this foundation because it blends in with my skin very well. At first I thought this shade (Chestnut) was too dark, but the ore I buff this foundation into my skin, the more it blends. As far as wearing a full face of makeup in the summer, I always do because it honestly doesn't bother me, but if you want a foundation that is buildable, I would suggest this one. I say this because some days I want more of a tinted moisturizer look than a full coverage face and this foundation allows me to have both. A couple cons of this foundation are the color selection because of the lack of darker shades (but I guess that's what the Queen Collection is for), the formula because it's not as lightweight as advertised, and if you have a warmer, darker skin tone like I do, this foundation doesn't really bring that out. However I do like the fact it has SPF which makes it perfect for summer!
Pros: - Price - Availability - Formula (buildable) - SPF 10
Cons: - Formula ( not super lightweight as advertised) - Color Selection (needs more darker color selections)

Disappointed
I got this because I saw that one of the colors matched me perfectly. I was so excited! I wore it for a couple days, I was pleased with it. It wasn't heavy on the skin, but definitely not light weight. There's a strong Cucumber water scent and it had a light coverage, and not really that build-able. But it broke me out like nobodies business! Not a keeper.

Taylor Swift looked better with this!
When I saw the commercial, and Taylor Swift's flawless skin, I really wanted to try this! For being a Covergirl product, it worked ok. I had trouble finding my match, and it didn't blend in real well. But I will admit that the coverage was good, and the product felt light on my skin!
---