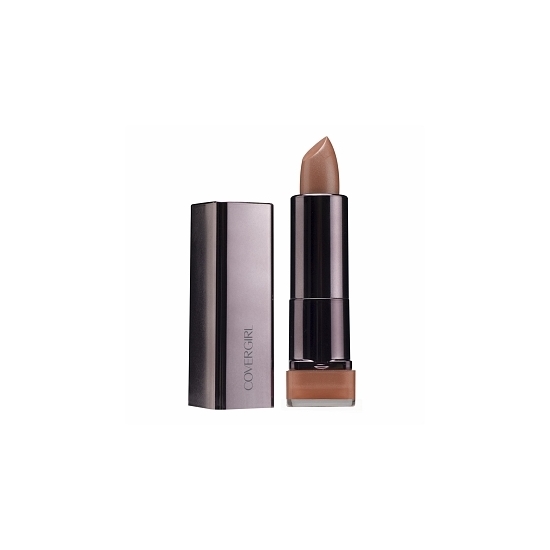 Rollover image to zoom
Reviews

Nice
I was looking for a matte shade and ended up with a slightly shimmery one, but I ended up loving it. Enchantress is a cool toned slightly purplish pink. Hydrating, smooth, even color, not streaky. Staying power is pretty nice, color does fade down to a softer almost stained look over time. I usually opt for tinted balms, but I am glad I bought this for when I want a bolder lip look.

Glamorous Leigh E.
Feb 3, 2014
What you need to know!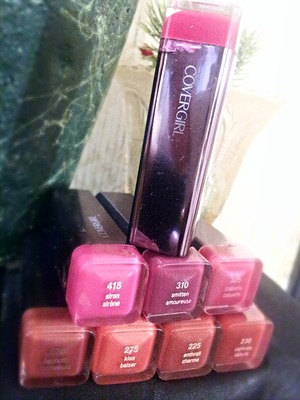 I own 8 of the Covergirl Lip Perfection Lipsticks. ( Coquette, Siren, Kiss, Hypnotic, Tempt, Enthrall, Captivate and Smitten). These lipsticks are moisturizing, rich in color, silky smooth, and vibrant. Covergirl also offers the Queen Collection of Lip Perfection lipsticks mainly for women of color, but any skin tone can wear them. Hey, look at it as more shades to choose from. The lipsticks last a very long time due to its ability to leave a stain on the lips. Your getting a 2 in 1, a lipstick and a lip stain you can't beat that. Removing the lip stain is easy just use soap & water or your facial cleaner. While applying they go on smooth with a light scent that eventually goes away in no time. Some of the lipsticks are slightly off from the color on the outside of the tube which can be a problem if you want that specific color.
Subscribe to my YouTube Channel @ Glamorous Leigh Eje (links are on my Beautylish page) and follow me on here. Thanks =) http://www.youtube.com/user/GlamorousLeighEje

I was actually looking for a pink lipstick, and I thought that this was that, but it turned out to be more purple-fuschia. When I first bought this product, I wore it just as a dark color. But then I bought a different way-too-light lipstick, (Billie Lipstick in Coral) so I layered the Coral color with this color, and it was a gorgeous pink. This product is very matte, and that is a plus for me. A bit pricey for a drugstore lipstick, but pretty good.

color pops
this lipstick does leave a stain on lips after it starts wearing off. I dont really mind this because it leaves a softer color on lips so I dont have to worry about reapplying. the color itself is beautiful, its a bright purple and its fabulous.

Decent
I wanted a nice reddish coral shade for prom. When I saw the color on the outside of the container, it was the perfect shade. Sadly, the actual lip color varied from the tube. It seems like more of a pink than an orange, but that may have just been the cruddy light in the drugstore. The texture is nice and smooth, but my lips definitely felt dry after applying it and taking it off. I had to mix it with other lip colors to get the color that I wanted. If it was the color I wanted, I would have definitely given it four stars.

Flame is a bright, pinky-red with a soft sheen. I found it very flattering on my skin (very pale), but the bold pigment will likely look gorgeous on skin tones across the board. Only a swipe or two is enough to cover the whole mouth.
It wore decently. After 2 hours, there was some slight fading and even slighter bunching in the lip lines, but only on close inspection. It faded more after 4 hours. By 5, the color had worn away, leaving an unflattering ring of color around the mouth. It'd be best to remove or reapply after 4 hours.
I found that sadly, this particular lipstick was slightly drying, despite the brand's claims that these were to be moisturizing. However, the color was pigment-crazy, sweetly scented, affordable, and pretty easy to find.
(read the full review on peakvolume.blogspot.com)
Good red color but...
it kisses off like crazy. Gave my hubby a couple smooches and it really made him look like I'd beat the crap out of him. It sort of looked like 7th grade style hickeys. lol I do LOVE this color and it's one of the first reds I've found that suited my skin color. Not sure I would purchase again though but it's ok.

Mixed Feelings
Burn is a gorgeous, cinnamon-y red with lovely golden shimmer. One swipe is enough to last all day (six hours, plus 3 hours of staining). It's a sexy, confident, alluring shade that just screams self-assurance!
However, there's trouble in paradise. This shade is so, SO drying. It has that clingy feeling on the lips one usually associates with mattes. While the product is on, it's tolerable, but it generally devolves until your lips are crying for balm after the stain wears off (mine were chapped and flaking off after nine hours of wear).
The packaging is very nice for drugstore, and while there is a candyish scent, I find it enjoyable. The shade is stunning and the wear is impeccable. If only this didn't feel like such a nightmare after all-day wear! I really want to love it, but the lack of moisture is a huge drawback. Lip balm is mandatory to pair with this.
(You can read my in-depth review of Burn on peakvolume.blogspot.com)
---