10 Piece Professional Blush Palette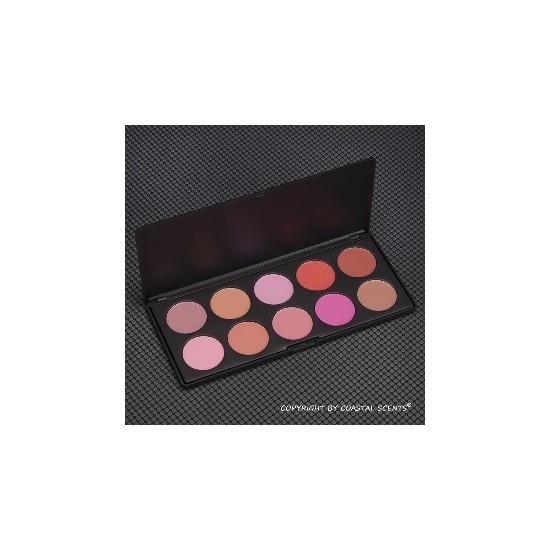 Rollover image to zoom
Reviews

This palette is really great and affordable (when I bought it was on sale for less than 10 $!!).The colors are very pigmented,they last all day,some of the darker colors you can use to contour the face,so this is blush and contouring set :) You get a lot of colors,cool and warm,so you have something for everybody's skin type,and a lot of product that will last you for quite long time... I love it! :)

I'll buy it again
I absolutely loved this palette! There are blushes that are warm and cool, lean pink and orange, and a variety of finishes. They are all incredibly pigmented and with enough product in each pan that one won't go through any one blush in a short amount of time. Nearly everyone can benefit from this palette. There is a hard plastic case with an ok closure. I've taken this blush palette travelling and have yet to have it open or the contents break on me. I wish it would have a mirror, but it would add to the weight and probably cost more. I appreciate that Coastal Scents labeled this palette so it's easy for me to tell the difference between this and other palettes without opening the case.

Sebastien C.
Feb 16, 2013
Really nice
Great palette that I like to use for blush *obviously * and some color as eyeshadows ... The payoff is amazing for colors as fushia , orange ,... It is real that they are quite powdery but I always tap the excess ... The palette have a good range of matte and shimmery ; soft and bright ; cool and warm . Overall this palette is really versatile and cheap. ;)

I'm impressed
I am so happy with this palette. The range of colors is perfect and the color payoff is better then I expected. The color lasts on your cheeks all day and for the price I paid I wasn't so sure I would like it but I am impressed. If your looking for a good blush palette then I would definitely go with this one!

AN AMAZING PRODUCT COASTAL SCENYS BLUSH PALETTE
THIS IS THE ULTIMATE BLUSH PALETTE FOR ME,I USE HER EVERYDAY WHEN APPLYING FACE AND I ADORE IT. THE COLORS IN THIS PALETTE GREAT FOR EVERY SKIN TONE.THERE WAS ONE COLOR IN PARTICULAR I WAS SCARED TO USE IT WAS THE ORANGE COLORED BLUSH ,UNTIL I SEEN A COUPLE REVIEWS OF OTHERS USING IT WITH SKIN TONES CLOSE TO MINE THEN I TRIED IT AND LOVE IT TOO.

another great from coastal scents!
BRILLIANT really pretty shades, great mix of neutrals and brights, blend beautifully, a makeup must have! I recently bpught this product and was pleasantly suprised, i was worried that the colours would be really blocky when applied to the cheeks but i was so wrong, i like to use a darker shade for the cheek bones and then one of the brighter shades for the apples of the cheeks

Totally Recommend
Price~ $15.95
Where to buy~ www.Coastalscents.com
Pros: Great pigmentation Affordable
Cons: Has to be ordered online
Packaging: Sleek Black
My thoughts: If your looking for an affordable range of blushes this is a palette I recommend. You get 10 different blush shades to accent nearly any look you desire, and is suitable for all skin tones. The color payoff is astounding considering the price and the size of the pans are of decent size! In this palette you will be receiving 4 matte shades and 6 shimmery shades to give your cheeks a beautiful flush of color! So weather you are a makeup artist or this is used simply for personal use I believe everyone should have this in their makeup collection.
Overall yes I recommend this product
---