 Rollover image to zoom
Reviews

Personally China Glaze is my fav! They have the best colors, im into brights and metallic and they have a great selection. I usually get them for 2-4 dollars at the beauty supply by my house, i see other's pay around 6-8 for them, either way ill continue to buy :)

LOVE China Glaze
I first rec'd China Glaze for Xmas. I rec'd 8 bottles. They were in holiday collections so three in one box, three in another, and two in another. OMG!! I fell in LOVE!! This is the best polish I have ever used. I have tried OPI, Nicole by OPI and Essie. Nope, not fans of them. However, China Glaze has made me so happy! In about two and a half months I went from 8 bottles to 24! I picked up some clearance at Sally's and Ulta and also rec'd a bottle free when I bought Seche Vite top coat at Sally's. Today I rec'd my nail mail of the complete Electropop Collection! I love it!!! So, IMO, China Glaze is the best! I know others swear on other brands, but not me. : )

My all-time favorite nail polishes!
I absolutely love china glaze. I think the formula is very smooth and creamy. They aren't as expensive as essie and OPI but just as good, in my opinion better. My favorite color is Refesh Mint. I also love the crackles and I just think these nail polishes are worth the money. They dry pretty quick and last good on my nails. I am very picky about my nails and cherish them so once I find something that works good, I stick to it!

My favorite nail polish brand
There are many different options for nail polish but this is truly my favorite brand. They're cheap but just as high quality as the other brands. The brush is excellent (not too big, not too small) and the formula is excellent! For Audrey is an iconic color and I'm hoping to get more crackle colors!

Great products that lasts and doesn't chip
I was looking for a color of nail polish that looked professional and would last longer without excessive chipping. Usually, I have to paint my nails several times a week, but this nail polish allows me to paint my nails every couple of weeks. After I have filed down my nails and pushed back my cuticles, I apply a thin coat of China Glaze "Innocence". I proceed to place a second coat of polish a few minutes later and let dry for five minutes. I have tried various OPI nails polishes, but China Glaze lasts longer and doesn't chip. I would suggest this nail polish to those that have limited amount of time to do their nails, but want to look professional and put together. Since I use China Glaze every couple of weeks, it provides a great value and the bottle lasts for several months. China Glaze nail polishes are a great buy and have become a staple of my beauty routine.

Nova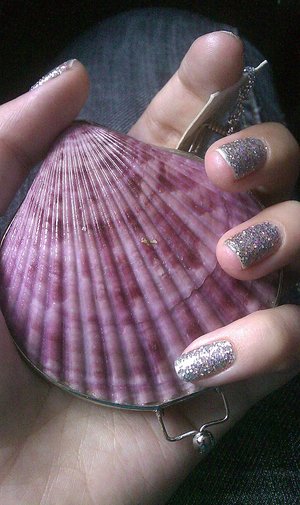 A great chunky glitter polish. Needs several layers and doesn't get removed easily, but looks amazing! The glitters are silver and kind of holographic in good lighting. So they reflect all kinds of colors. I think it's a special nailpolish. Really awesome to wear to parties, or to more formal occasions if your outfit it really simple. (On the picture I'm wearing about 3 layers, without a base color)

My go to nail polish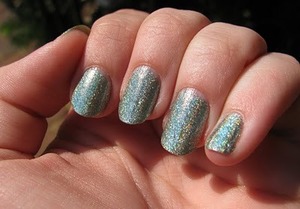 I love China Glaze! It dries fast and they come out with amazing collections. I think out of all of my polishes, I own the most of this brand. I find that I compare other brands to its formula! The only downside is that some of the colors, especially in the permanent line, are quite sheer. They look okay in the bottle but go on the nail lightly. Newer colors are amazing though!
Photo is He's Going in Circles.

I love the Turned Up Turquoise color, it's gorgeous! The only downside I've noticed is it isn't glossy after it dries, it's very matte (I'm not sure if all China Glaze products are that way) so I had to use a top coat with it. It chipped very easily which I wasn't happy about! And it seemed to thicken up pretty quickly! I do love the color selection that China Glaze has so I will be purchasing more also since I haven't used much of their stuff.
---