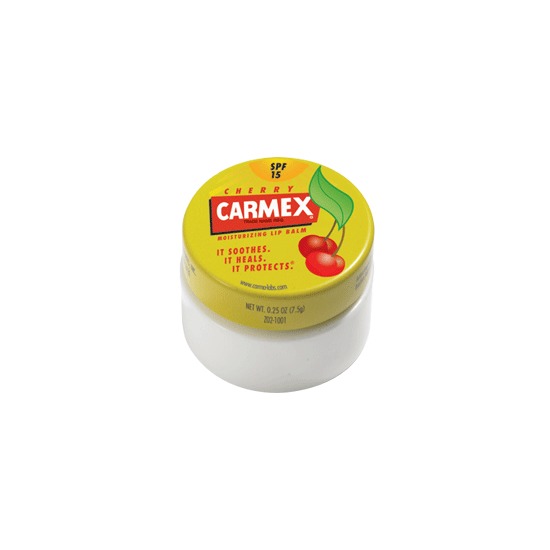 Rollover image to zoom
Reviews

HG
Best lip balm I've ever used. And its so dirt cheap. I've been using Carmex for a few years now. I've tried a lot of lip balms but nothing rescues my lips better than this. My bottom lip in particular tends to get very dry. It will get really chapped, flaky, crack and sometimes bleed. This is the only thing that helps when my lips are really going through hell. No matter what. And when my lips are fine it keeps them soft. I always loved the original formula but I love the Cherry even more. It has much less of that strong, medicated smell the original has and the SPF 15 is a big bonus for me. I'm never out of this.

<3
I have four pots of this stuff, one in my make up bag, one in my hand bag, one on my dressing table and one in my bathroom. I honestly use it all the time, it keeps my lips hydrated, protects them and leaves them feeling full and soft. I use a lip scrub at night them slather loads of this on so in the morning I can apply a little to sink in and put my lipstick on the top. Perfect for me :)

Amazing!
I really love this lip balm and it is the only one I now use! The smell of it reminds me cherry coca-cola and the taste of it too, to a certain extent. Its really moisturising and after a while my lips feel really hydrated and smooth. I really love the fact that it also has SPF 15 in it too to protect the delicate skin on our lips from the harsh uv rays from the sun and that is it not tested on animals! I really recommend this lip balm over any other that I've tried!

moisturises but feels unsettling
Well let me start off by saying that carmex is a favourite brand of mine in terms of lipcare. I am going to be comparing this lipbalm to Nivea lipbalm today because in my reviews, i like to compare products to similar products (like the nivea lipbalm) that i know and love. Carmex does deliver it's purpose: to moisturise. The consistency is not too oily or creamy and so therefore it does not explode in your handbag and stays in a solid form. Please bear in mind that this is in England weather conditions: where it is quite cold. The consistency of the product may change depending on which climate you live in. It's not glossy and absorbs into your lips quickly. It smells strongly of chemicals but not to the point where you can smell it continuously: just when you first smell the tub. On your lips, the smell seems to disappear. It does not taste so great though, so for all you non-single ladies, i'd recommend using some sort of flavoured lipgloss e.t.c. on top of this. The only downside of this product is the fact that it leaves behind a stinging sensation: like a lip plumper. It doesn't hurt but it feels slightly weird and unnatural. Now this isn't necessarily a bad thing. My friends who use this product love that sensation, as to them it really feels like it's working on their lips. For me i do not mind the sensation. It is not a benefit nor a downside. Some people may be afraid of trying it out because of the tingling sensation because it may seem 'dangerous' but it is completely harmless.
As compared to my nivea lipbalm: i feel the nivea lipbalm heals and works a lot better than the carmex and i am yet to find a lipbalm that is better than the nivea one (trust me, i'm a lipbalm junkie). However the carmex is a good purchase if ever in need of a lipbalm e.g. in an emergency. Also, nivea lipbalm may seem too 'oily' to some people and in hot climate it melts and the tube does not contain it well. In the aspect of consistency: Carmex wins. In the aspect of effectiveness: Nivea wins.
Carmex is however a good purchase and i would definitely re-purchase it.
---