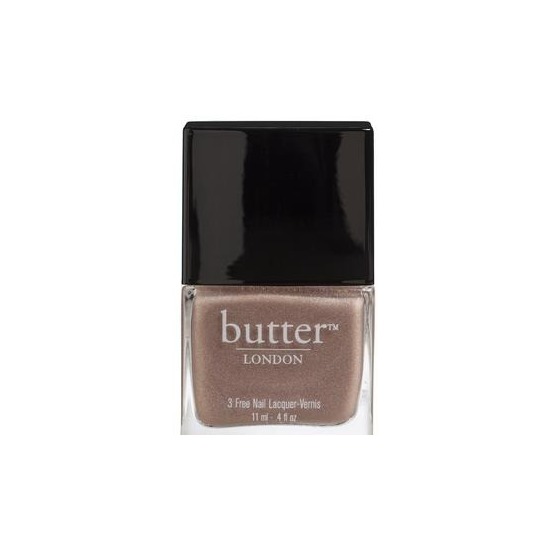 Rollover image to zoom
Reviews

Not as great as I expected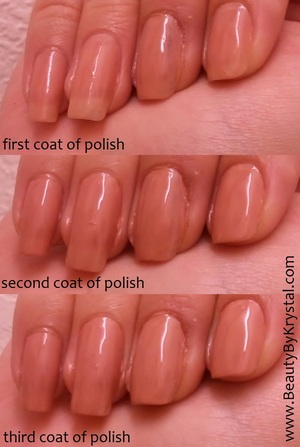 I first found out about Butter London watching FleurDeForce on YouTube talking about a polish she picked up one day, just based on the look of the bottle - I wanted to try Butter London! I love simple packaging, especially when it's boxy. I finally got around to purchasing my first bottle of Butter London 3 Free Lacquer from Ulta while they were offering a 2oz. bottle of polish remover with purchase. I chose the shade Tea With The Queen, mostly based off the name. The polishes retail at $14ea, but sometimes you can find great deals through other vendors online.
So for $14 a bottle, I was expecting this polish to surpass my collection of $1-$8 polishes. I'm a bit torn on this brand actually. While looking online I thought the color selection was very classy and wearable and right up my alley. The packaging is adorable and I love it so much that I display it on my vanity. The brush is pretty standard, nothing special. Unfortunately, I hate the formulation of this polish. Now it could just be the bottle I got, because I have heard other people saying they love the formulation. My peeve with it is that I had to apply 3 coats to get this to be opaque, and the first coat was extremely sheer and streaky. Some people may say 3 coats isn't bad, but I expect a $14 polish to only need 2 coats at the most. I mean, I own over a dozen $1 polishes that can easily been worn with one coat and none of them streak!
My BF says my cosmetic standards have risen since I began consuming ELF products at such GREAT quality and UNTHINKABLY low prices. Maybe, BF, you're right... nonetheless this "high end" polish highly disappointed me - BUT - I do want to purchase more to see if I just got a dud bottle or they really do come in this "eh" quality.
Happy Ending: I do love the shade Tea With The Queen! Tea With The Queen

Love It!
I saw this polis and walked by it several times before I caved in and bought it. I love it! To get the actual color will take 3 coats on its own, but thats okay. The reason that I love this color is the uniqueness and how it hits the light. And even better is the fact that is is great to put on other colors, creating a completely different look! It was really worth the price.

Worth every penny!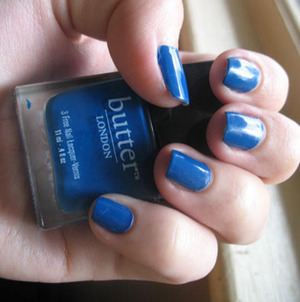 I actually heard about this brand through this site when they came out with their No More Waity, Katie lacquer and was intrigued: I'm a firm believer in non-toxic, 3-free polishes, particularly with all the time my fingers inadvertently spend in my mouth. Problem? I couldn't find it ANYWHERE! I have no problem ordering online, but sometimes a girl just needs a nail fix.
ULTA finally started carrying butter LONDON and I ran out to grab as many as I could. I particularly love the names of their colours--as something of an anglophile, I get a kick out of the slang they use. But the real magic is in the formula. It's rich and opaque, absolutely no streaking. In the photo below, I used three coats of Blagger, though it was completely opaque in two. Mind you, the photo shows five days of wear: not a chip in sight! Ultimately, I can wear these polishes for a full week before I start to notice light wear. I use a computer extensively and work with my hands quite often--I'm also admittedly a nail-biter. I can't imagine how long this manicure would have lasted if I wasn't!
Bottom line, if you see a butter LONDON colour you like, go for it. It will be the best polish purchase you ever make.

Best Nail Color HANDS DOWN!
First off let me say that Butter London is my FAVORITE nail care/color lines out there. Forget OPI- Butter London polish or "Lacquer" as they call it, simply glides on better and lasts longer than all leading brands. I especially love the gold glitter lacquer (not shown here); it looks great alone or over another color.
I especially love Thames and British Racing Green...each name comes with a cheeky description...
Best of these BL does not contain the nasty ingredients used in most nail polish.
Tip: If you're ever in the Seattle-Tacoma Airport get yourself a WATERLESS; yes WATERLESS mani/pedi. It sounds odd but TRUST it's fab!

Threemoons T.
Aug 09, 2012
Gorgeous colors that need a good topcoat
I love love LOVE their colors on--I have at least 10 at this point--but their basecoat is sub-optimal as is the topcoat. Use a tough topcoat like Out the Door though and your manicure will look awesome for up to 10 days.

Isabelina B.
Mar 02, 2012
Good for the price!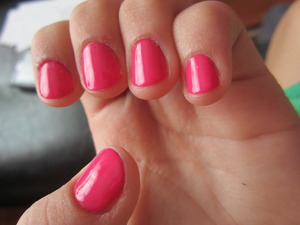 This is actually a really great nail polish. I have it in Primrose Hill Picnic and it's one of my most worn shades. It's opaque in 2-3 medium coats, which was a little disappointing considering the fact that it was $15. The formulation, however, is flawless. It's so smooth and the perfect thickness. It was pretty average wear, usually 2 days before i see tip wear. The color is super creamy and bright and looks great on my nails though, I always get tons of compliments on it. Although this is a good nail polish, I think I'll stick to my Essies which are cheaper and a little better quality.

Not worth the money
Um super expensive!!!! U get a lot of polish such is nice however I don't think it ends up looking good on my nails... Especially the glitter polishes !!! For that price glitter polishes should be able to not chip easily. Wish they had done more work with the product itself. Wonderful packaging though!

Maybe I'm doing something wrong but Butter London polish does not last long on my nails at all. The colors I have (No More Waity Kaity, Wallis, Big Smoke and Fash Pack) are great and that's what attracted me to them at first. But even with 2 or 3 layers of polish plus a top coat, it was chipping with in hours of application. Probably not buying these again...

When I'm feeling rather girly I like to slap this colour on, only 2 coats and I'm set! Looks really cute if you mix up your nails with white nail polish

Love it and it's friendly on the nails! Applied 2 coats and finished it off with Sally Hansen nail hardener! Works a treat!! For those wanting to show off their nails this is the colour to go for
---