Lemon Butter Cuticle Cream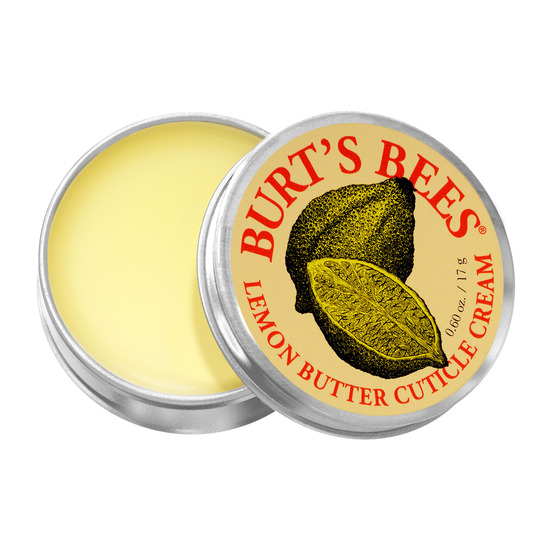 Rollover image to zoom
Reviews

A must have!!!
Totally love this!!! When i get nervous i scratch the skin around my nails (sorry i don't know how to properly say it!) so my fingers are in really bad conditions.. Massaging them with this helps a lot!! The smell is delicious and the product last forever! I would defenetly recomend this!!!

If you don't have this, you need it!
I bought this a week ago. So far it's been amazing. My cuticles were dry, cracked, and bloody. So far it has helped my cuticles. I'm in love with it. I massage it on my cuticles every night. The lemon butter smells so good and it's all natural which is even better!

L O V E ???
If you do not own this ,. BUY IT !! My cuticles where very dry and broken, My friend told me to try the burt and bees lemon cuticle cream, GIRL YOU ROCK. I have noticed that my nails are growing and my cuticles are starting to grow on my nail instead of being ripped ect!! So happy :)

One of my Favorites
I have been using Burt's Bees Lemon Butter Cuticle Cream for about a month now. I LOVE it. I keep it in my purse and slather it on when ever I feel like it. I like the texture because I am on the go, I can't always use an oil. I rub a little bit on and just massage my cuticles.

Awesome find
I picked this up at my local CVS after lusting over Lush Lemony flutter cuticle butter, but unfortunately I don't have a lush near me so when I saw this, I knew it had to be almost the same product. I am not too fond of the smell but the product itself is amazing. I use it several times a day, even on my elbows and my feet and after one use, I could immediatly tell the difference. It nourished my cuticles and has stopped me from getting so many hang nails, and my elbows, which tend to get dry and scaly feeling, it has made them soft and smooth, and I feel like this product doesn't dry up on your skin, even hours later, the skin is still soft and nourished.

I got this in my stocking for Christmas and it really helped my nails survive the winter! It smells delightful and it really works. I put it on every night before I go to sleep and after taking off nail polish. My hands dry out so bad during the winter and spring months, so this really saved me some pain.

< 3
I use this product at night before I go to sleep and wake up with happy cuticles. I also apply it after each acetone use as well which keeps my cuticles from drying. Its very moisturizing but I do have to keep re-applying the product if I want to keep my cuticles hydrated and refreshed - its not often at all by any means. Overall, this is a good product. Everyone also raves about the yummy, lemony scent because it truly does smell amazing.
---