Impress Press-On Manicure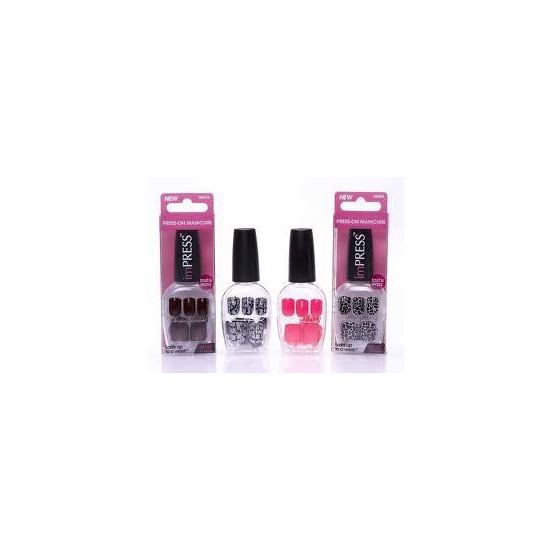 Rollover image to zoom
Reviews

Very IMPRESSed!
Firstly I must state that i have tried several glue on nail packs and non compare in my opinion. The packaging for this product is very imaginative and makes it stand out from the the rest in a store. The application is easy, no glue needed and the shine is long lasting. Once on they are very durable and can last up to a week. The range has several colours and styles which are brilliant if you like simple french manicure or a more funky pattern. Overall the nails are a great buy if you want a product that is not too damaging on your nails and is fuss free!

I LOVE these nails. They are so simple and easy to apply and it takes hardly any effort or time. It comes with 24 nails so you know you'll find some to fit your nail size. The application part is simple......before taking the clear plastic off the nail to reveal the stick just find the one that fits you, un-peel and press on. Press down on the nail for 5 seconds or so and there ya go! I got some that said "short length" however they were not short enough to my liking so I simply filed them down the length that I wanted. It says they last a week and i've had mine on for 8 days now. I've only had to replace 1 nail because it came loose. Since there are 24 nails it's easy to find another one that fits your nail. If you can't find one that fits perfectly get the next best, take an emery board or another good nail filer and file down the sides, the bottom or the top to best fit. You can totally make these last longer then a week. I also work in a grooming salon with dogs, and my hands are constantly in water, or i'm working on a dog and my nails constantly get abused. There is no chipping, no lifting (if applied right) and they last. I've already bought my next set to put on after these are done. Just follow the instructions and you shouldn't have a problem. I love them. If anyone has some questions or better ways to maintain their Press On feel free to comment on my page.

Bianca Nicole C.
Jun 07, 2012
I liked these they lasted awhile but they didn't fit my nails very well I have a wide spread nail bed. I love the nails colors and the lasting power.

Impressed with imPRESS
I really liked this product. These nails stayed on for a very long time even though I've washed dishes, showered and washed my hands. The only thing that I didn't care for is that majority of my fingers are the same size and there was only two of the same size in the package. Other than that I would buy these nails again.

Just didn't do it for me.
I received these in my Influenster Spring Vox Box and I finally got a chance to try them out. Although I was excited and had high hopes, I was a little disappointed. The designs are absolutely gorgeous and some are really intricate (like the ones that were sent to me) and there is a huge variety to choose from, but I found that they easily snapped off during normal daily acitivities. Things like rummaging through your bag or typing, not even strenuous activities, would snap them off my fingers. I believe it was just that the shapes of them didn't work so well for my fingers, therefore making it a bit of a miss for me. They're easy to use, they look and feel like they are very good quality, but just didn't fit right on me. Although they looked impressive, I wouldn't purchase them. :(

Nice but Not so sure..
I got these and i thought they'd be great fun to try out! They stay on really well but to be honest, they look reeally fake... i don't know if it's just the ones i got (plain purple) but they didn't look real at all! The sizes were also strange on my nails and because they were squared cut and my nails are usually oval cut, they looked a bit weird. Overall, they were alright and had great staying power but the cut and realness is a bit off...
---