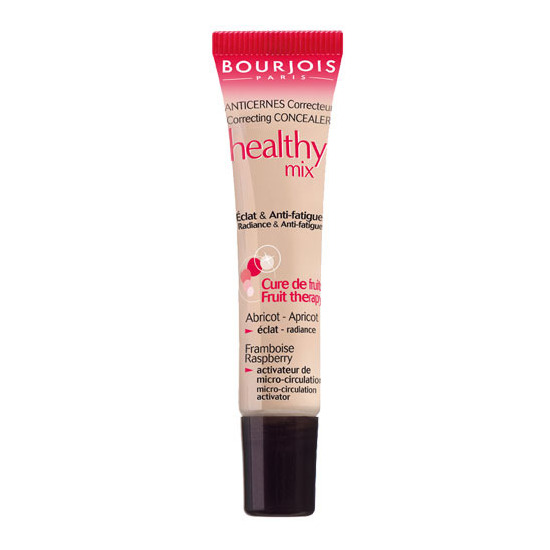 Rollover image to zoom
Reviews

AMAZING!
this concealer is so good! I always swear by the Revlon Colour stay.. (which I feel is a light coverage concealer..)but this concealer is seriously amazing! it covers my problem areas (blemishes) and my under eyes so so well! It is a liquid concealer but I feel it sets quite powder like, which is good as I have oily skin! the coverage is great & it lasts most of the day for me! its not to expensive either which is great! I also love the shade(mine is in 51). I find so so many 'drugstore' concealers have 'yellow' tones or either 'pinky/grey' tones to them.. but with this I feel its more yellow (if anything) to neutral toned which is GREAT for my skin tone!! I really cant say anything better about this concealer its so worth it! :D

Elsa Marie G.
Jun 25, 2011
Amazing concealer!
I love this concealer too. Haven't tried the foundation, but definitely in love with the concealer! It has a great coverage without being cakey and also blends well into the foundation. The ingredients in there make you feel really awake, I can personally definitely feel the tingly sensation, it's really great! Also, I can see that my dark circles have reduced under it, when I take it off.

Wonderful concealer!
I rarely find a concealer that I really like.This concealer really works for me.It has great coverage and really does conceal my dark under eye area.I rarely have any pimples but when I do this concealer does an amazing job concealing them.I can wear it either on top or underneath my foundation and it won't look cakey and it will give me the same effect.

Bought after falling in love with the foundation, now use on its own over BB Cream to brighten my skin and cover imperfections. Smells amazing, lasts almost all day if set with a powder (I use the Lily Lolo Translucent Matte) and best of all, doesn't feel dry or crease throughout the day. Only downside is the packaging.. easy to squeeze too much out in a rush and it is not as hydrating as the foundation. Bourjois is generally more pricey out of the drugstore brands, so price is okay in relation to the other products within in the brand

Really Good!
I got this because I liked the foundation so thought I would give the concealer a go and I am glad I did because I love it! It is just.. good I can't explain it! I can use it just on its own with some mineral powder to set it and I'm good for the day but if I am going out anywhere special then I apply foundation then the concealer its really good and it smells fruity too! The price isn't too bad either so I give it a 9/10!

Best concealer I've ever used!
I love this concealer! It covers dark circles really well, also covers spots really naturally, and just has a lovely smell to it. I dislike the foundation that goes with this, but the concealer is phenomenal. I generally prefer liquid concealers to pot concealers and that's what drove me to buy it.
I also would recommend, if you are my skin tone, that the second shade works best for covering dark circles, the lightest is very highlighter-y, so if you want to look more natural, choose the second lightest shade!

This is quite an affordable concealer (around 8€ for 10 ml) which I find works best for the under-eye area. I bought a shade which is slightly lighter than my skintone (52 instead of 53) and it not only covers the circles under my eyes but also brightens the whole area. It's not drying in the least, but also not hydrating as Bourjois claims it to be. If your skin is dry by nature, you will need a good moisturizer under this. I have no such issues during the warmer half of the year, but as the winter approaches, I find it clings to the dry patches under my eyes and accentuates them. It does crease slightly, but I have yet to find an under-eye concealer which doesn't. As the previous revieweres have stated, it looks natural, but still covers nicely. However, do not expect a miracle when it comes to very strong redness, such as red pimples because it simply does not cover that much. All in all, I think this is a good value-for-money product.

This concealer has a liquid texture which is easier to work with. It blends really well, but after a few hours wearing it, u'll need to touch it up again or it will kinda wear off.
It conceals dark circle really well and makes ur unhealthy under eyes become somehow brighter, so it is very useful for people who always sleep after 12 PM.
This concealer makes u feel like u are wearing some concealer. I wrote this because I have experiences with concealer that have an airy feel (like wears nothing), so it doesn't feel that good on the skin.
BUT, this product quite affordable for a product that covers many aspects of a concealer.
---