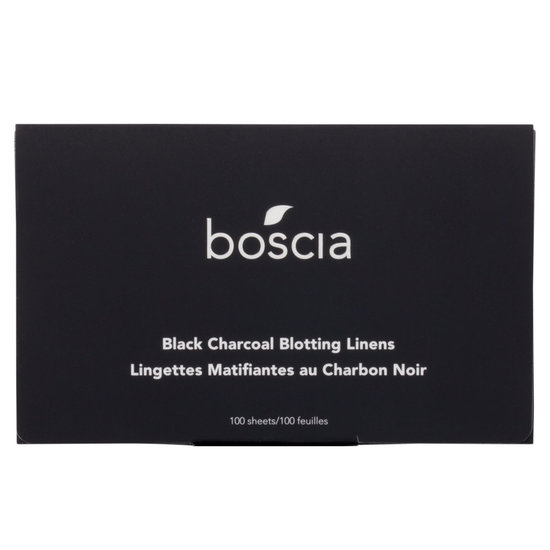 Rollover image to zoom
Reviews

Jamie Lynn P.
Feb 11, 2011
Saving Grace During the Summer - or a night on the town!
These are my saving grace, I am rarely without them.
I have combination skin and it is inevitable that I am going to get oily in my t-zone throughout the day, or *gasp* a night on the town. General rule is to put something powdery on top to soak up the oil, but the more powder you add, the more of a muddled cakey mess you get.
Enter blotting papers. Imagine removing the oil from your face instead of simply covering it up! You press one thin little sheet, which oddly resembles tissue paper, into your skin where you need oil absorbtion and VOILA - oil be gone!
They're small enough to fit into any clutch and an essential part to my touch up routine.
Tip: In a bind you can use the toilet seat covers in the bathroom. They have a similar "absorbtion" property to them. Insider tip!

Amazing Things Come in Small Packages
I purchased my first Boscia Green Tea blotting linens a few years ago and I finally just ran out of it. This little pack lasts a long time if you don't necessarily need to blot multiple times a day. Even if you do, it will still last you!
The sheets are big enough to blot your entire face without using an additional sheet! Unless you are really, really oily :) It absorbs the excess oil without disturbing your makeup, so your face looks refreshed! I like to think the Green Tea helps keeping your makeup refreshed as well with its antioxidants :)
It is pricey for blotting sheets ($10-13), but for the amount you receive in the pack... It's definitely worth it!

No Shine!
I bring this with me every where I go. It's an essential in my purse. I use it on a daily basis. I have oily skin and the shine is ridiculous when wearing make-up. It definitely removes the shine and oils without ruining my make-up. Great product! :D

My number one product
I absolutely cannot live without this. I have been using these for a couple of years since I found out that the clean & clear ones have miner oil in them. I love that is are all natural and are the best blotting linens I have tried. They are not flimpsy and absorb all the excess oil using only 1 linen and do not touch your makeup at all. They are a bit pricey but if you keep your eye open you can find good promos on their site.

Feel Pampered!
I love these blotting sheets...I hate the toilet seat cover cheap blotting sheets that sometimes are very over priced...These blotting linens are very nice, I love the texture the quality and if you get the green tea, lavender or orange you'll love the smell! These are my go to sheets.....totally worth the 10 bucks!

Jacquelyn J.
Oct 22, 2011
Love them!
I really love these blotting linens! I have used up the Peppermint one and now using Rose. I love the smell of them and it does a great job absorbing the oil off of my face since I get oily during the day. I also have Green Tea and will try that one as soon as I run out of the Rose.

Best $13 I've spent
I carry this in my purse everywhere I go, I don't get too oily that much ( I have dry combination ) so when I do get shiny I pull these out and there is no irritation what so ever and it has a lovely scent! And the best part is that they do the job well! I will definitely be keeping these in my beauty routine.
---