120 Color Palette 2nd Edition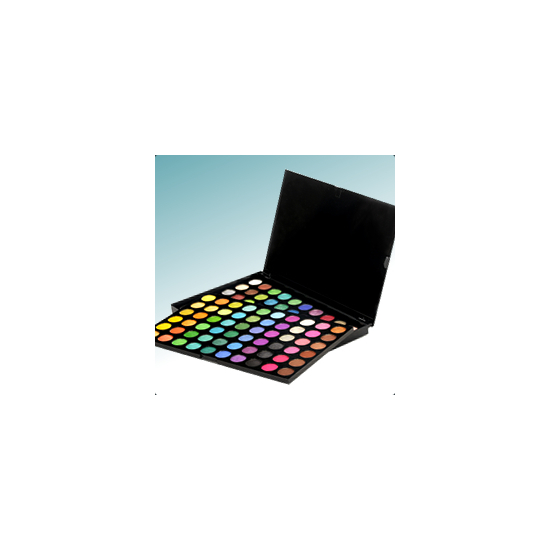 Rollover image to zoom
Reviews

Amazing range of color
This palette has the most amazing range in color. It has bolds, neutrals, soft colors, metallics, mattes, shimmers. It is their most versitle palette! I use it daily on myself, on photo shoots, at work, for weddings, for everything! The colors are so true and last a long time! They have a nice finish, blend well and go on with ease. I love bh, the price is amazing, I plan on getting all their palettes!

Outstanding shadows!
This is my go-to palette. It has pretty much ever color I need for either a street, classic, or glamour look. The shadows blend easily and the color payoff is amazing! I've had this for well over a year and most of my colors look untouched because of how little product you need to use to brighten up those eyes. Inexpensive and well worth every penny.

Amazing Colors~
I recently just ordered this for myself, just a week ago...and I must say, that I am truly, TRULY in love with it! The colors are simply amazing, and go on so well. The palette has ranges of all my favorite colors -- so much so, it'll be fun to mix and blend with! So reasonably priced, for so many colors...I LOVE IT and find it to be an amazing purchase~! ♥

You get what you pay for
First of all, I invested in this palete myself. I wasn't amazed with it, but I do think it is fairly good - average.
Main reason being - most of these mass palettes are generic. Coastal Scents, BH Cosmetics, etc.all sell generic mass palette make-up. The company itself does not make the eyeshadows found in the palettes. The eyeshadows in the palettes are nothing compared to the pan e/s BH is now selling (those, I believe, are most likely produced by the company itself).
Shipping: - The shipping was quite fast. I don't live near a heavily populated area, so packages tend to take longer to reach me than normal people (what I mean is if the shipping says it will take 5-7 days. I usually get it on the 6th if I'm lucky). I got my palette a few days after I ordered it (I would say ... 4 days?). - I opened my package to find loads of filler paper and bubble wrap to protect the palette. I felt like everything in it was entirely secure and did not worry about my e/s breaking. ** I only ordered the palette and nothing else.
Packaging: - I was interested in the BH 120 2nd Edition because I liked the packaging better than Coastal Scents. I felt like the glossy plastic looked and felt more durable than other mass palettes, which was true in a sense. - It has a sticker in the center-bottom, back part of the entire palette indicating what number palette you have. It also has a nice label that says when the e/s will expire. - The layering is nice and the top panel fits snugly when put back in place. However, I feel as though that purple ribbon to "lift" the top layer is ridiculous. When I pull or tug on it, it doesn't really do anything. It is attached to the bottom layer which doesn't really do anybody any good. I am able to get the top panel in and out without worrying I'll accidentally fling it off into oblivion while trying separate the panels.
Eyeshadow Quality: - Quite a few of the matte pastel colours just came off chalky. If it was mixed with the oil from my fingers, it would swatch pretty nicely. When applied, however, it was basically white with tinges of a different colour. If you're not too understanding of what I mean by this (or what chalky means) - Imagine getting cheap chalk and colouring the sidewalk with it. It's not a vivid, pretty hue. It's almost white, but if you look closely ... it isn't. - The Shimmer e/s came off quite nicely, however, with little to no fallout - They seem more metallic than shimmery to me, though. - The Satin e/s I like quite well and if I do use the palette, those are the ones I am drawn to first. Those are very nicely pigmented and true to the pan colour.
Pricing: - The pricing is definitely reasonable. I feel like the packaging, the weight, and the amount of shadows were worth the price. MAC e/s - 9.6 USD per gram vs. BH 120 - 2 USD per gram (equivalent to approx. 12 e/s). *DISCLAIMER* - I wasn't able to find the exact gram amount for the BH120, but I heard that they were .10 grams per e/s
Would I recommend it? - To be blunt, not really - not to everyone, at least. - I feel like these palettes are great to give to anyone who would like to experiment around without spending too much money and who is striving to further themselves in make-up as a career or just daily use. I use it on my friends and play around with it, but I don't find myself reaching for it every single day. - I would recommend spending the 29.90USD on a few single pan e/s that one would actually use regularly rather than 120 e/s that one would use occasionally.

Waste of money.
I got this because it had all the colours I needed in case I didn't own a single I needed to use for a makeup tutorial. I also got this on sale so, well, why not? I got it for about 30% off in April or May.
I've very rarely used this palette. I've used it maybe five times this past year. The last being on Halloween when I used red, purple, and brown on my hand and face as you can see in my default photo.
I do not think these are good quality eyeshadows, really. Powdery, hard to get to show up, etc. Perhaps I need to play around with it some more. I don't know.
Good for beginners that are completely new to makeup? Beginners with bright colours? Sure, go for it. But I've been with makeup for two years and this just isn't for me.

I absolutely love this palette. It is the best palette for beginners like myself who just love playing with makeup. The colors are vibrant and pigmented and is great for any occasion.

KayKay Aura S.
May 30, 2012
LOVE IT!
Got this palette for christmas last year and I am LOVING it! The color payoff is so great and they are so pigmented. They also stay on all day and night which is so important. I am in love with this company. I also have the 66 lip color palette and the 10 blush palette. Couldn't live without them.

Stephanie M.
May 15, 2012
So my BhCosmetic 120 palette came in today... And I'm thrilled! The colors are so vibrant, and contains matte, and shimmer colors. The pigments are great! I paid the mothers day promo price, and a little extra for the shipping because I couldn't wait for it to come in. They seriously put in a lot of care into packaging your items. It was like Christmas trying to get to the palette in side of the box. A definite must have for all makeup lover beginners and pros!

Makeup artist Katie Alves inspired me to get this palette. This is my first palette and I love it. The wide array of colors and shades appeal greatly to me and I love that there's a variety of shimmer and matte, rather than all one or the other like so many other palettes.
The only problem I've come across with this palette is that the colors aren't as vibrant on my eyes as I'd like, but I think that could be my inexperience and lack of proper primer as others who use it seem to have no problem.
---