10 Piece Professional Blush Palette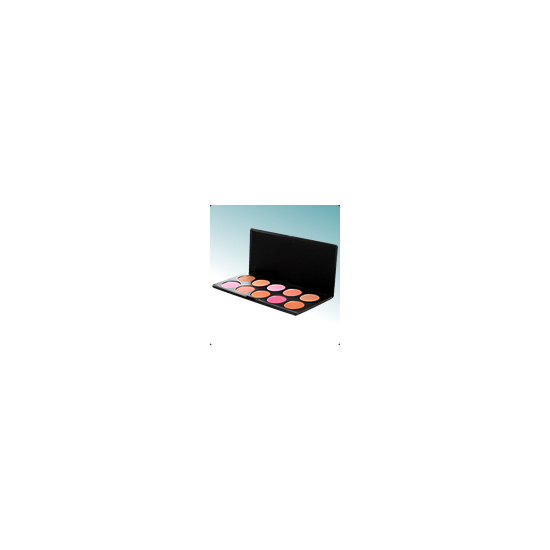 Rollover image to zoom
Reviews

Toneylynn P.
Feb 08, 2013
I absolutely love this blush palette!! I love the variety of colors it offers as well as the pigmentation of the product itself. I gravitate more towards the pink and purple shades in the palette, I find that the orange/browns don't show up as well on my skin or just in general really. The colors are all fairly matte which makes it perfect to use on multiple people. My absolute favorite thing about this product is the PRICE, you get so much for your money that you absolutely cannot go wrong

LOVE!
I love this! I purchased it about a month or 2 ago. This is like the only powdered blushes I will use. It has every color you can possibly need!! It even has a dark brown which can be used as a bronzer. It ranges from light pinks, to peaches to dark pinks to corals! Its amazing. Perfect for beginners, professionals, traveling! I feel like this is a must have for everyone that loves blushes!

Cheap, Great Colors and Pigmentation
I bought this along with a few other palettes at BH. These colors are amazing. I have used 7 of the 10 so far and they all work great with my skin tone. I especially love the orange (I didnt think I would... but it is fabulous). Between this palette, the 88, and 120 palettes... I dont think that I will be needing any new blushes, or eye shadows for a long time. Great investment!!!

Cheap, easy to use, and very pigmented!
I love this blush palette, I have a ton of blushes but I really, really like this palette :D it's so pigmented, and blendable, it's extremely easy to use if you're doing someone else's makeup and you don't wanna use your MAC or personal blushes for the clients, as that can be germy and gross. I tend to use this once in awhile for myself when I'm not grabbing my personal blushes that are falling down into the pan already. For $15? Which is less than the cost of one MAC blush, this is a great value and a good product. I did buy mine from Coastal Scents, instead of BH but there is no Coastal Scents one on here... boo.
---