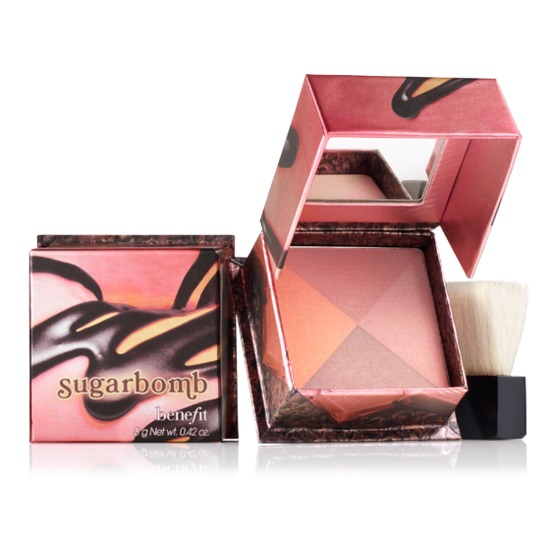 Rollover image to zoom
Reviews

great daily blush
I love this blush, even though it is a bit on the frosty/shimmery side. Some people feel like it's more of a highlighter, but I think it's too pigmented and and the color is too deep for it to be used as a highlight. I love it as a blush. The color flatters my medium/olive skin tone and brightens my face. I like using this when I'm feeling tired to perk myself up a bit. It's also great on top of other blushes to add more of a frost. It also smells incredible! It's like cotton candy-ish, I don't know how to describe it. The scent does not stay on your face all day, so don't worry about that.

This is a good blush. the different color combos really compliment my skin tone. it has a lovely shimmer to it, but sometimes it could look alot in bright sunlight. I love using highlighters & when I do with this blush, IT LOOKS ALOT. at least that's how i c it :) Dont like the brush though

I love this combination so much. It gives a lovely shimmer, along with a natural peachy-pink flush. It's one of my go-to blushes, and I wear the powder/lip gloss combo a lot. It can be swept on delicately for a natural flush, or layered for more of a pop. It's really beautiful.

Lovely & Beautiful Mixture
This is the only blush that I use, and I love it. The idea of blending colors together to make a custom blush intrigued me. You don't even have to use all four colors every time. Sometimes I just drag a brush over two or three of the colors. : ) The outcomes are great.

most reached for blush
I bought this about three months ago and its almost hit pan i have used it so much. I love this look on myself but it is great for brides that do not want a whole lot of blush on their wedding day. The smell is amazing and the color payoff is great.
i like to use the pinks as the blush and then the darker colors as a conture color
also the look great all mixed togeather

Gabriella R.
Jun 06, 2011
love it!
I got this about a week ago because i need a blush but i wanted to try something different and i saw this i was like "wow!" 4 colors mix together? but then when i put it on i loved it. its not bright i like cause i usually get a pink or something but i want it something softer and here it is:) and it goes on smooth.

Won't leave home with out it!
This is one of my favorite products and a must have in my make-up bag. I like to apply my blush and then sweep some of this on my cheeks and even sometimes on the bridge of my nose. I wear bronzer and blush everyday so I dont feel it's too dark for a highlight, I actually think it is the perfect shade for me ;) At first I hated the brush but now I won't use this product with out the brush. I think its great. I've tried applying with other brushes and it just doesnt come out the same.
xo
---