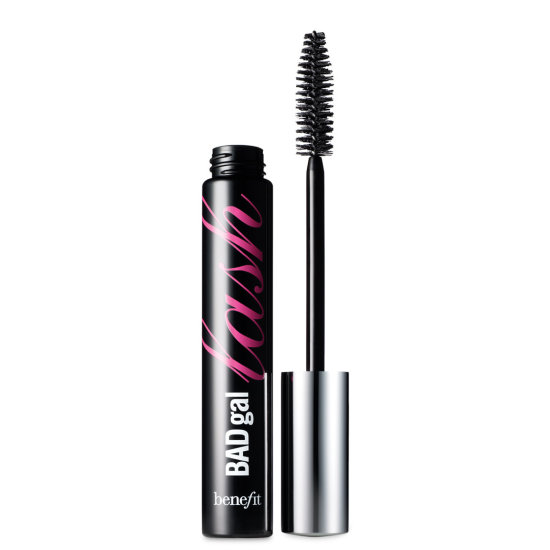 Rollover image to zoom
Reviews

I've always been a fan of layering mascaras. I really like using a plastic bristled wand first (think lash blast) because I feel like they're best for defining your lashes, and then a bristled one (falsies, colossal, etc.) because I think they thicken and volumize and add some nice curl. My new favorite combination has been the One by One from Maybelline and Bad Gal by Benefit. The combo is to die for and they do a great job together.

Great Mascara!
I got a sample ($9) size of this at Sephora. No clumps, flaking, or raccoon eyes! I would buy a full size but it is way out of my price range, but if I get a Sephora giftcard then possibly. I wish there was a drugstore version of this! Price wise, anyway.

nice
i dont know why people are complaining but i actually love this. it clumps somethimes though. the trick is to apply it in zig zag motion to separate the lashes. for those who havent try it yet, buy the mini kind and use that.

not that great
i tried this mascara because at the time i was totally obsessed with benefit ! so when i got it the first month it was ok but it dries soooo quickly that you can't use it more than a month ! totally crazy ,so i threw it away ! beside that , the brush is huge , no clumps and very very black , i will not repurchase another one ! i prefer my telescopic carbon black ( the best for my short lashes)

HG MASCARA
When I saw a review on this mascara about a year ago, I wanted to try it out, now I ONLY use this mascara. It gives the perfect mix of length and volume for PERFECT LASHES! I cannot say how much I love this but I recommend you try it out. From the formula to the giant brush, benefit nailed it with this one.

False lashes not needed with this mascara
I love my eye shape (small, almond Asian eyes) but I do NOT love my short, straight lashes. Whatever magic Benefit puts in their BADgal mascara is worth the (relatively) higher price point, because my non-lashes go from "wha?" to "wow!" in just a few coats. While the formula does dry out faster than drugstore brands, the ingredients therein are fantastic for extending and thickening short lashes like mine.

Claire-Louise D.
Mar 01, 2013
I have naturally thick and long lashes to begin with and i think this product works for my lashes very well. I don't wear it on super humid days though because it isn't very permanent. This is my everyday mascara and I do love it. Love the name too. It does get clumpy if you put more than two coats but I usually don't have to so I don't have a problem with that.

from the Full Glam Ahead kit
I had wanted to get something from Benefit for eons, once my makeup obsession was in full swing. So on my second (I know, only second) Sephora trip, I had scouted out on online beforehand, some things from Benefit that were the most bang for my buck. After much agonizing I decided to get something from the 12 buck sale bins in the front of the store. I had previously decided to get the Full Glam Ahead set because I wanted to get a little sampler of some of their cult products.
The mini size of this is really cute- adorable packaging, as to be expected from Benefit, and its the perfect size for travel and storing comfortably in my MU train case. I love the rich, black pigment of the mascara, and the thick, very full/large brush. I love large mascara brushes, personally. The formula is what makes this product so unique however. Its tacky and thick, not wet and liquid-y. Wetter mascara formulas seem to aggravate my eyes, so this relatively dry formula is great for me. I don't necessarily prefer it to my other two fave mascaras- my mini Estee Lauder Sumptuous Bold Volume Lifting Mascara and my Rimmel London Volume Flash ScandalEyes mascara- which are both wetter formulas. (The EL mascara is wetter than the Rimmel, however.) This mascara performs well without curling the lashes, but now that I've gotten over (mostly) my long-time aversion to eye lash curlers, this formula performs best with curled lashes. It is not heavy, but has great hold and is very firm, maybe a tad bit sticky, on the lashes. I wouldn't say its the best I've ever tried, but its one of the best so far, and earns major bonus points because of its unique formula. I love having it in my mascara rotation, and its the one I reach for when I want to feel a little special. I don't reach for it all the time because its more special to me. However, I have a hunch this will last me a long time, even though its a sampler size. I would recommend getting the mini size before getting the full size, if anyone is curious- that way if you don't like it you'll have not wasted the money on the full size.

One of my favorite mascaras...hands down!!
I am literally in love with this mascara. It has quickly become a huge favorite for me, and I have tried MANY mascaras. My lashes are pretty long but they're not as thick as I would like them to be, so this mascara proved to be a great everyday option for me, and will be for people with my eyelash type. For those with thinner or shorter lashes, it would work as a great night time mascara. The brush is pretty huge, which made me think that it wouldn't be able to coat each individual lash, but the spiral fibers around it ensure that it does. My lashes are instantly fuller and longer with absolutely no clumps. It gives me a very natural look, with a little bit of sultriness due to the darkness of it, as well as how much volume. I will say however, that if you are looking for a mega lengthening mascara, this may not be the best option for you, as I find that it is more of a voluminizing and thickening mascara than a lengthening mascara, but it still lengthens very well, and is an overall great pick.
---