SuperExtend Extreme Mascara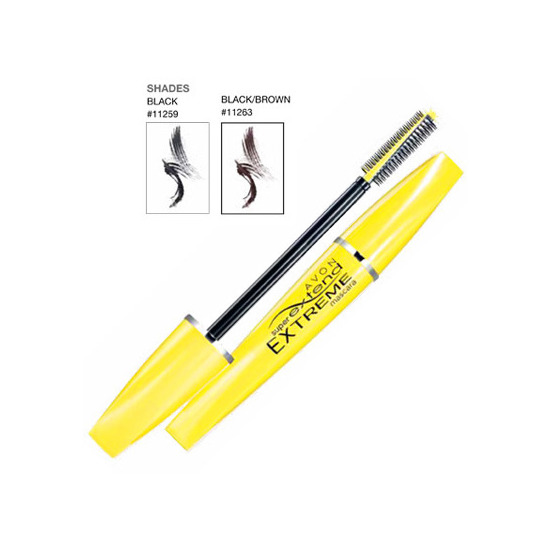 Rollover image to zoom
Reviews

Good For About 3Hours.
This mascara is very defined and can create amazing lashes that look like fake ones. i would say its good money apart from the ware only lasts 3hours. but it is good for just going to a meeting. or going out somewhere quick. Not really a night out mascara though:D

Too wet.
Avon's Super Extend Extreme Mascara will help you "go to great lengths" according to the brand. Avon claims that this mascara makes lashes look up to 87% longer. The formula is supposed to contain "magnetic" fibers that instantly attach to the lashes, "extending them to extreme new lengths." I purchased this mascara back in May, didn't take it overseas with me, and have been avoiding reviewing it since I got home. After years of hating Avon mascaras, I tried and loved SuperShock. I bought Super Extend Extreme under the impression it'd be just as ballin', and was thoroughly disappointed. I'm back to hating Avon mascaras. I purchased this mascara at it's intro price of $3.50, it normally sells for $9.50, so I got a great deal. This mascara contains 7g, or .247oz. Avon mascaras are hypoallergenic and ophthalmologist tested. Super Extend Extreme is available in waterproof and washable formulas, in two colors. It's promised to be clump, flake, and smudge free. This mascara was made in the USA. Avon products are not tested on animals, except in their Chinese market Like all Avon mascaras, Super Extend Extreme comes wrapped in black plastic with warnings, directions, and a full ingredient list written on it. The tube is bright yellow, squared at the top, rounded in the middle, and back to squared at the end of the cap. A little silver band encircles the bottom of the cap. The tube only features the name of the product, written in black. The name mysteriously smudges off the tube. Weird. Almost as weird as the shape of the tube, but I guess it looks cool (the tube not the smudges. That's just bizarre). Super Extend Extreme's brush is large, and also weirdly shaped. Avon calls it the "Mega Length Brush". It's made up of "flexible, lash hugging bristles combined with precision comb bristles to build extra, extra, long lashes". The brush is actually a little hard to pull out of the tube. The brush is flat on two sides and round on the other two; the rubber bristles are shorter on the flat sides. The "Mega Length Brush" comes to a really weird point that makes getting into the inner corners awkward. Not really a fan of this brush, it's size makes it difficult to get to the roots of the lashes, the corners, and it's far too big to use on the lower lashes without disaster. The bristles seem spaced incorrectly to me, they barely grasp the lashes at all. This mascara's formula is very well and thick, it's actually kinda goopy. It has a gross, inky smell to it. The "magnetic" fibers seem to be more attracted the mouth of the tube than the brush and your lashes. This mascara is one of the wettest I have ever encountered, it stays wet for several minutes, and honestly seems to never completely dry even after several hours of wear. The thick wet formula weighs my lashes down, even with only one coat. My lashes don't have much natural curl to them, but this mascara straightens them all the way. This is not what a mascara is supposed to do, in fact it is the opposite. This mascara does not extend my lashes to the extreme, and the promise of extra, extra long lashes is laughable. It barely lengthens my lashes, and the length it does give is negated by my now straight lashes. Curling does not fix the problem because the mascara never fully dries. It's pretty awful. Obviously, if a mascara never dries completely, smudging is bound to happen. As you can imagine, removal is easy. Avon's Super Extend Extreme is awful. The worst mascara I've tried in a long while. The brush is weird, the formula is goopy, and the results are pitiful. No mascara should ever make your lashes droop, nor should any mascara smell have this weird, strong, inky scent. Packaging smudges, and so does the product it contains. I really regret buying this mascara, even if I got it on steep discount, it's turned me back off Avon mascaras. I'm probably going to toss it out after this post goes up. It's pretty obvious that I wouldn't repurchase Super Extend Extreme, and I certainly don't recommend it. If you're set on buying an Avon mascara, choose SuperShock instead.
---