Magix Face Perfector SPF 20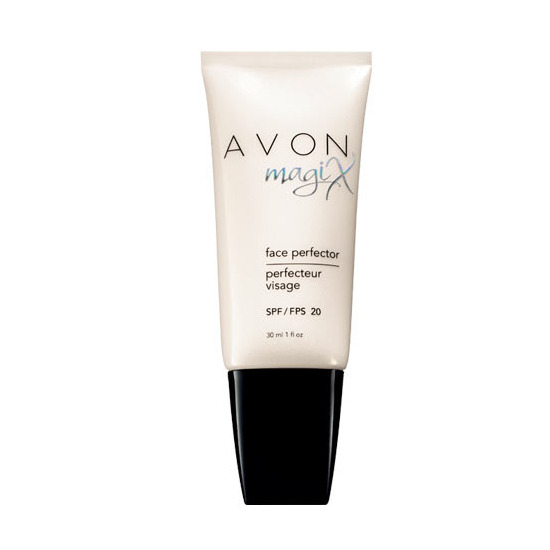 Rollover image to zoom
Reviews

Pore Minimizer
I have never been a fan of foundation or concealer, but to make my pores look smaller I had to find something and this product is it. Not only does it minmize my pores it also controls shine and covers any imperfections on your skin. I bought a tube in Dec of last year and I still have half the tube left. This product is amazing!

I am a new AVON rep.
I've been using Avon products since I was a little girl. A family friend was an "Avon lady". As others have noted, this primer is a great go-to for everyday wear. I really love Avon products because they are practical, easy to use, and of course BEAUTIFUL!
Buy makeup and much more at my webstore: http://www.yourAVON.com/EmilyMeza

Perfect face perfector.
This product is so great. It feels amazing when applied to the skin and a little goes a long way. It's like a light creamy gel but feels like powder when blended into the skin. I use this mainly to cover up my pores around my nose and cheeks and they disappear. And it does work for combating shine. This makes your skin feel smooth and makeup application goes on better. When I don't feel like wearing foundation or a full face of makeup, I use this with a little mascara and lip gloss and I look good. Very good product.

A coworker referred me to this product and I fell in love with it. I tried a bunch of expensive brands and this primer works the best out of all of them. Usually without primer my face gets oily by the afternoon but with this product I stayed shine and oily free. I also use it during the weekend by itself and it actually evens out my skin.

Great for oily or combination skin
Before I started using this product, I would constantly have to blot my face with oil absorbing sheets. This product is a "powder gel" which sounds strange, but is totally what it seems like once you try it. It evens out imperfections and really helps you to stay shine-free almost all day. When I wear this, I'm able to go running (when I'm too lazy to take my makeup off...) and when I'm done my makeup is still in place despite the heavy exercise. This bottle will last you a very long time; you only need a little bit for each application!

smoother skin and flawless coverage
So I have some scars and bumps from current and past acne on my face. This is a smooth primer that I put on before my makeup and it leaves a perfect, even-toned base for my foundation or powder. When I use this, my makeup stays on longer, my face gets less oily throughout the day, and my skin looks smoother.

Pretty Decent
This face perfector for Avon is average. You can use this product on any skintone and its good for all types of skin as well. What I like about this perfector is that it leaves a matted look which is my favorite. The Illuminating Face Perfector of course leaves a nice little glow. You should apply it alone or under your foundation. Would I buy it again? Sure, why not? For $10.00 you cannot beat it. I am not saying that it works wonders but it works and great for your wallet.

Average
This product was ok. It did a good job with covering my blemishes, and gave my face a flawless and matte look, however, it did dry out my skin a lot. I've tried wearing a moisturizer before I applied this, and it still dried out my skin. Even though it made my skin look good, my face felt really dry and rough. Also, it has a weird smell.
---