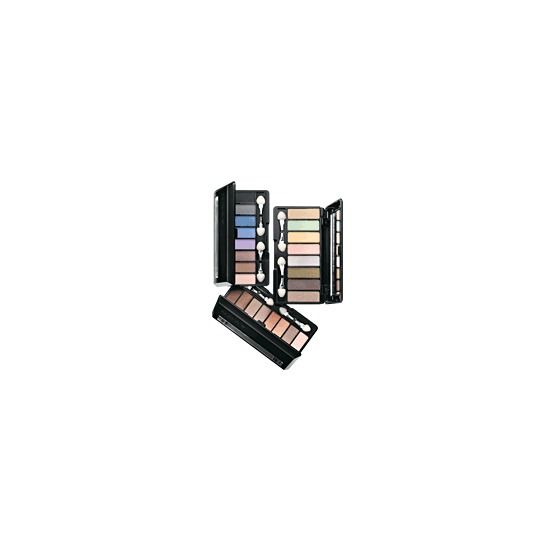 Rollover image to zoom
Reviews

AWESOME
you DEFINITELY should have these palletes if you are an amateur at makeup! great colours, really affordable and I have been using them for 2 years really often! and they're still there! I love them! I am not a proffesional but I know many thing about makeup and these palletes helped me so much! I highly recommend it!

perfect for traveling
I do not use this product every day. I actually only use it when i travel. When i purchased this product i wanted something a little on the cheaper side so that if i lost it or broke it while i was traveling it wouldnt be as big a deal. It works perfect for what i intended it for. Its pretty small, easy to carry in a makeup bag, good colors for a easy look and def. affordable. Glad I made this purchase.

I've been using Avon products since I was a little girl. A family friend was an "Avon lady". I really love Avon products because they are practical, easy to use, and of course BEAUTIFUL!
Buy makeup and much more at my webstore:
Free Shipping with code: FIRSTREP
http://www.yourAVON.com/EmilyMeza

Loving it
I have the neutral palette and I'm happy I have it! It has the right shades to use for an everyday look. The shadows are great and highly pigmented! It can be easily blended and they all have shimmers in it but it's not too bad! It's a great thing to buy! I use this all the time for an everyday look on the go! I absolutely love this. It's like a mini, cheaper naked palette !

I got this ages ago and I brought it when its cheap... I love this and I have it in the natural colours / nudes, this is the main palette I reach for if I want a natural colour eyes... The payoff for me is great and find these colours easy to blend and easy to work with to look great for an everyday look or even to smarten up to make it a first date look too

I have the neutral one of these palettes and it's great. Really quick and easy having 8 eyeshadows in a handy compact. Downside is that the applicators aren't great but are find if you're touching up on the go, but generally I use my own brushes to apply them. And in the long run the applicators are theoretically free, so no real complaining there. :D The only colour I don't use within the palette is the copper, but that's down to personal taste. If you don't like shimmery eyeshadows though I would avoid this palette as the majority if not all are very sparkly. I like the shimmer so I think it gets a 5/5 for me :) *****

Blendable, pigmented, versatile
This is one of the first palettes I purchased when I started using makeup because it's perfect for someone who's just starting out- it has lots of colors to create literally ANY look you want from day to night and it's easy to work with! I STILL love this palette. A must have for sure!!

Great for Beginners
I have the neutral palette and I really love it. It's great for beginners as it offers a range of neutral shadows to try. The applicators are pretty terrible and I'd seriously recommend using your own brushes. The palette is very shimmery, many looks can be created from it. Love this palette and recommend it highly.
---