Rainbow Eyes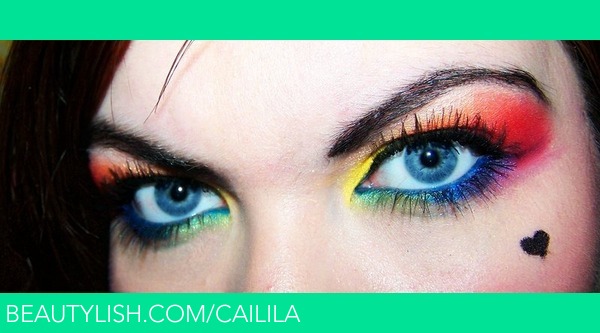 Eyes:
Benefit F. Y. Eye eyeshadow base
MAC "Chrome yellow" eyeshadow
Pearl Ex "Brilliant Yellow" pigment
MAC "Orange" eyeshadow
MAC "Passionate" eyeshadow
Manic Panic "Vampire Red" blush & eyeshadow
MAC "Swimming" eyeshadow
Pearl Ex "Spring green" pigment
MAC "Purple Haze" eyeshadow
Pearl Ex "Misty Lavender" pigment
MAC "Clarity" eyeshadow (used as bottom liner)
Pearl Ex "Micro Pearl" pigment (used as a highlight)
Annabelle liquid eyeliner in "Black out"
Covergirl Lashblast waterproof mascara in "Very black"
Rimmel London eye kohl pencil in "Jet Black"

Face:
Rimmel London Cool Matte 16 Hour Foundation in "Porcelain"
Covergirl Cheekers in "Rose"

Please note that I in no way, shape or form recommend you using Pearl Ex pigments around your eyes. They are craft pigments and are not recommended to be used for beauty purposes.
Comments