Purple Passion Mask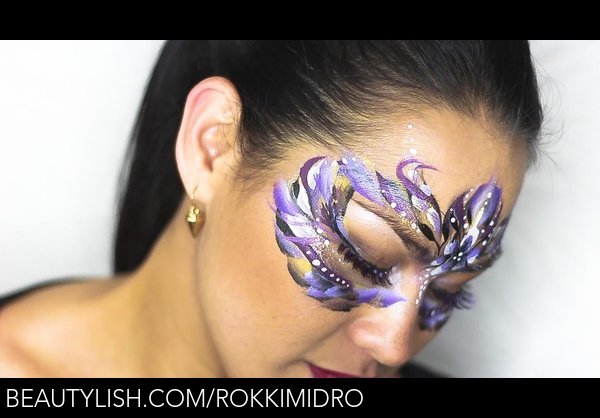 Purple and violet stimulates the imagination. It transforms the soul and calms the emotions…

To create this look, Iʻve started with Nyxʻs Jumbo pencil in lavender, apply this creamy pencil to your lids and blend with your fingers.

Use your favorite bronzer in the crease of your lids for that natural look.

The metallic gold and black in this arty brush split cake, compliment the violet perfectly.

Flora is the name of this brush made by Loew-Cornell. The bristles are perfect for creating delicate petals and flowers

Making sure to keep the colors on the same sides, swipe the bristles in this direction.

Then let the brush do the work….if you lay the bristles down correctly and pull the brush up on itʻs point, every stroke is beautiful…..

Use a white shimmery loose powder for a soft and glowing highlight.


And continue to create strokes around your eyes…..donʻt be afraid to let your hand go, youʻll be surprised at what you can create if you just learn to let go.

Take a NYX Jumbo pencil in purple, and add this majestic color all around. Blend with your fingers, draw a point on the bridge of your nose .

Lorealʻs Infallible eye shadow in the color Perpetual Purple is an intense color, use it where you wish.

Here Iʻm using NYXʻs glitter cream palette in Sweet Chocolate Browns, itʻs the perfect this look a natural shimmery glow.

This is MACʻs Rich Purple Chromacake and Diamond FX white. Itʻs a water based makeup for face paint. Use your favorite round brush, load up the brush with at least these two colors, and these pretty petals will come to life.

Use some black paint, or liquid eyeliner to create these flirty lines.

Add this rich color where itʻs needed.

Mehronʻs detailz always makes the perfect dots, of all sizes.

Highlight the inner corners of your eyes with NYXʻs lavender Jumbo pencil.

Itʻs all about the details…..add more light lavender and purple layers of petals on the darker colors for added contrast.

Royal Purple lashes pull this look together.

Nyxʻs Prune lip liner, and Rebel Lipstick by MAC complete this look.

Letʻs not forget some light lavender in the center of your lips.

The color violet inspires unconditional and selfless love, devoid of ego, encouraging sensitivity.

Comments
Photo By