Winter Glam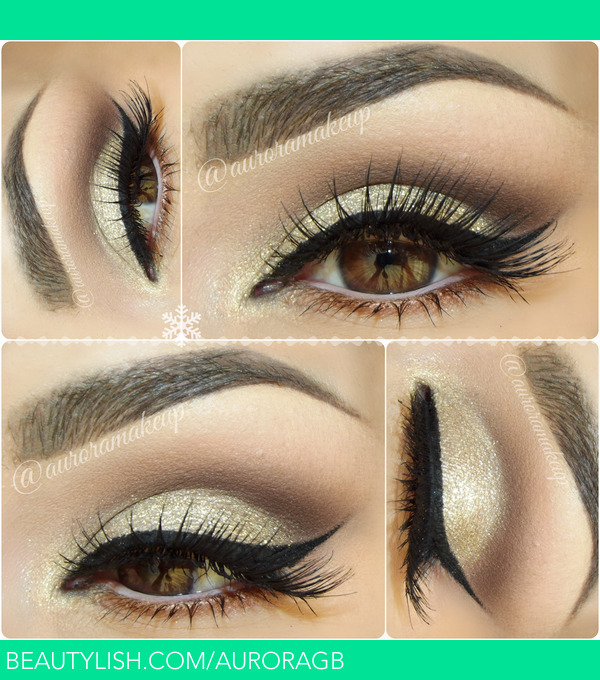 Instagram @auroramakeup, the details are:

As a primer I used Eye Shadow base by @motivescosmetics
I used the "neutralEYES Eye Shadow Palette" by @tartecosmetics for the Crease area .... light beige tone in brow bone, medium brown shade in the socket line, pink mate one as transition color. All applied with my Blender brush by @hairandmakeupaddition

Applied Luxe Creme Eye shadow in GOLD DUST by @motivescosmetics as base on the mobile eyelid & inner corner
Picked golden shimmery eye shadow in the "Late Night" palette by @motivescosmetics to cover all cream base in tap motions
As eyeliner I used Gel Eyeliner in black by @micabeauty @micabella
I decided to use BE BRAVE lashes by @townoflashes because they gives me an amazing cat eye effect

In the waterline I applied Matte Highlighter Crayon in CAMILLE , that neutralizes color skin with a pink tone
To line my lower lashes I picked both copper tones eye shadows into "Call of the Wild Amazonian Clay -8 Shadows " palette & wetting my Shader brush ( @hairandmakeupaddiction ) with Setting Spay 10 years younger , this gave a pop of color & definition in the lower part .

In my browns I used Brow Fix crayon to keep my hairs in place and Brow Wiz in Ebony to line the last part of my brow then I applied Brow Powder in Dark Brown to full some spaces on my brow towards the beginning .

To finish the look I used Mineral Volumizing & Lengthening mascara in BLACK by @motivescosmetics

Thank u so much gorgeous dolls!!!

Comments
Photo By