Countour Tips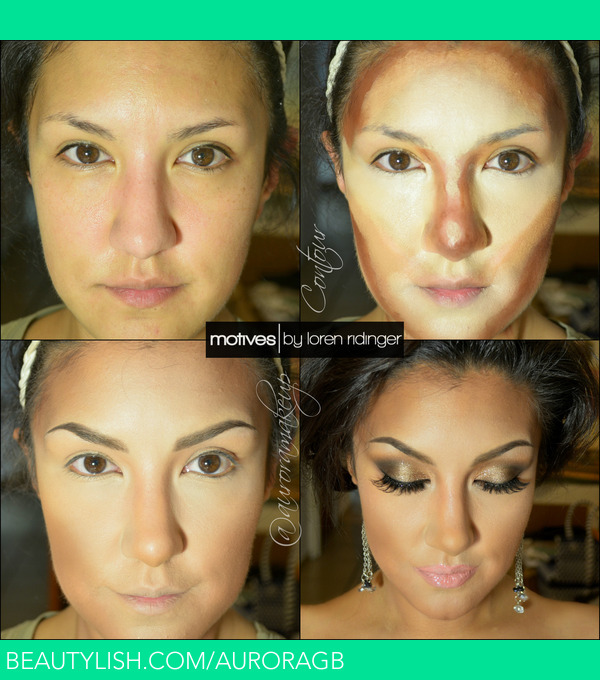 instagram : @auroramakeup
FB: https://www.facebook.com/AuroraAmor...

Hola preciosas!!! Aqui estan los detalles de cada uno de los pasos a seguir con los productos, en unos momentos mas estara el maquillaje de los ojos .
Hi dolls!!! Here are the details of the look on the video , eye makeup will be ready soon

Productos /Products Motives by Loren Ridinger
You can find them on/Puedes encontrarlos en:
http://www.motivescosmetics.com/ (USA & CANADA)
http://www.globalshop.com/ ( Internacional)


STEP1 //PASO1
Apply Perfecting Face Primer on clean face
Aplica la Prebase de Rostro de Motives sobre el rostro limpio

STEP1 //PASO2
Place any shade of Color Perfection Quad in DARK , on deep parts around drawing a sharper contour of your face.
Place any shade of Color Perfection Quad in LIGHT on higher parts of the face that we want to emphasize
Optionally I use Color perfection Quad in MEDIUM just as transition color between both colors applied before.
Aplica cualquiera de los correctores en el "Color Perfection Quad" oscuro DARK en las partes profundas del rostro dibujando una forma mas marcada y nitida.
Aplica cualquiera de los correctores en el "Color Perfection Quad" claro LIGHT en las partes que deseas enfatizar.
Opcionalmente yo uso el "Color Perfection Quad" medio MEDIUM entre ambos tonos marcados como transicion .


STEP3 //PASO3
Blend all the cream products applied with a sintetic brush or moistened sponge
Difumina los correctores aplicados con una brocha de cerdas sinteticas o una esponja humeda


STEP4//PASO4
Set all in place using Translucent Lose Powder in DARK and LIGHT tones according each tone of the face. Use a fluffy brush
Sella en su lugar todo lo aplicado usando lo Polvos Translucidos en los colores DARK y LIGHT de acuerdo a cada tono en el rostro. Usa una brocha suelta .

STEP5 //PASO5
Draw your brows, I used Dip Brow Pomade in BLONDE and EBONY by Anastasia Beverly Hills
Highlight check bones, above top lip and bridge of the nose with Pain Pot Mineral eye Shadow in ALLURE , place it with a fan brush.
Dibuja tus cejas con los Dip Brow Pomade en color BLONDE y EBONY de http://www.anastasia.net/
Ilumina huesos de mejillas, arriba del labio superiory el puente de la nariz con el Pigmento Mineral rosa dorado ALLURE, aplicala con una brocha de abanico.

STEP6 //PASO6
Make up your eyes , I used warm-golden tones that go with any skin tone .
Lashes are HOLLYWOOD GLAM by House of Lashes
Maquillate los ojos , yo use colores calidos y dorados que van con todos los tonos de piel.
Pestanas son HOLLYWOOD GLAM de http://www.houseoflashes.com/

STEP7 //PASO7
Add Translucent Lose Powder in MEDIUM on your checks , bridge of the noise and temples just to give a tan finishing.
Lips Crayon in PINK LADY as base , Lip Shine in AMAZING on top .
Optionally Paint Pot Mineral Eye Shadow in MARSHMALLOW on higher places of the lips.
Set all face makeup with 10 years younger Setting Spray .
Aplica el Polvo Transulido en color MEDIUM en las mejillas, puente de la nariz y las sienes para dar un acabado bronceado .
Usa el lapiz de labios en PINK LADY como base , encima aplica el brillo Lip shine en color AMAZING .
Opcionalmente agrega el Pigmento Mineral MARSHMALLOW en las partes altas de los labios.
Sella todo el maquillaje de rostro con el spray "10 years younger Setting Spray " y listo
TIP. I don't use any foundation at all for this kind of look, with corrector creams is enough and doesn't look cakey.
NOTA. No uso ninguna base de maquillaje en lo absoluto para este tipo de maquillaje, con correctores es suficiente y no luce apelmazado .
Comments
Photo By