Classic Black Nail Polish From Born Pretty Store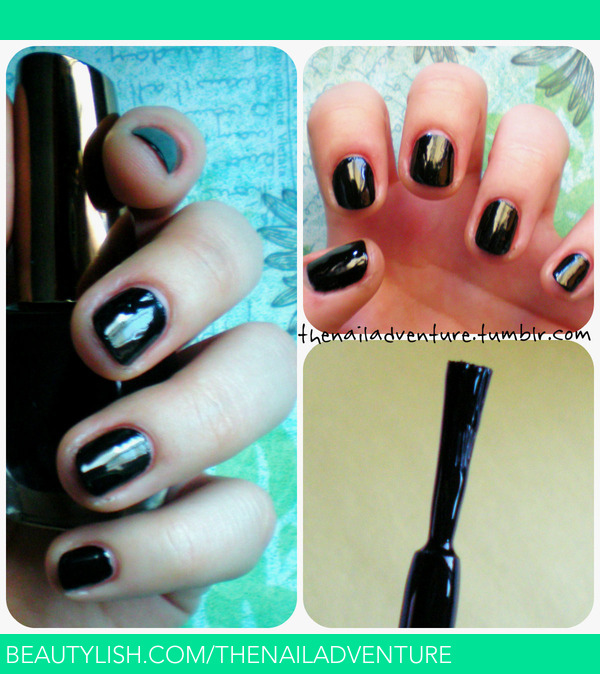 What girl doesn't need a quality black nail polish? I'm on a journey to find one!

The Bottle Contains:

16 ml of polish (average is 15 ml)
Review:

The nail polish arrived safely with no spillage and wrapped well in bubble wrap.

The bottle itself is short and has a square bottom, which I prefer. It doesn't wiggle on the table when I wipe the brush on the edge or even when I pull out the brush.

The brush is slight shorter than a China Glaze/Orly brush, but it has a good amount of give and fans out nicely when you apply it to your nail. I included an image of the brush just to show how even the cut of it is.

The polish was a little thick when I first tested it, but very opaque. An easy one coater! I thinned it out with Orly's polish thinner and it still remained a one coater but with a thinner consistency. The smell on the other hand is very noticeable. The polish smells heavily of gasoline instead of the usual polish smell. I'm not sure if it due to different ingredients.

Application:

The polish did not pool at the cuticles. It went on smoothly and evenly with no streakiness at all. And look at that shine!

Overview:

I would rate this polish a 9/10 for being an amazing one coater. All the images are one coat of polish! Plus for the price of $2.85, it can't be beat. I only dinged it off of a 10/10 because of the smell.
You can purchase this awesome black nail polish at the Born Pretty Store with my 10% coupon code GTBK31 (which would make the nail polish $2.56) at this link:

http://tinyurl.com/black-nail-polis...
Comments
Photo By