Quick Pictorial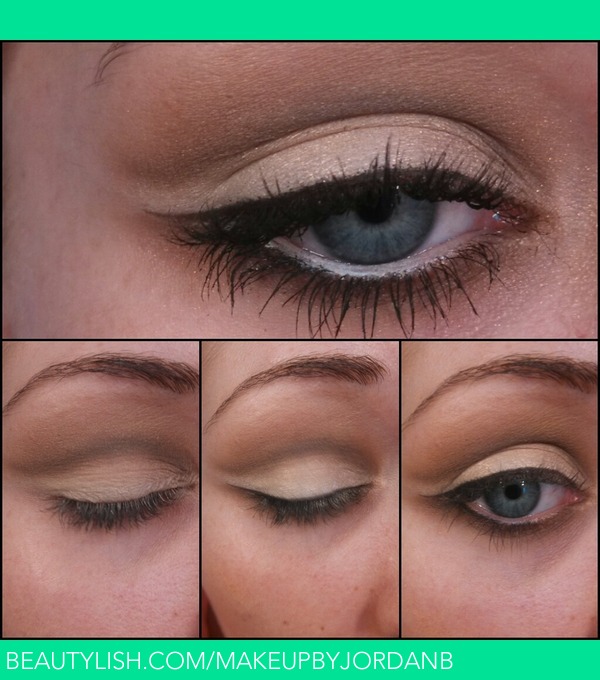 Sorry for the crappy quality, but unfortunately I have the flu :( but many of you asked for a tutorial on the "Bridal Eyes" look I posted recently! So I condensed it into an easy quick look :) very few steps. Hopefully this helps some what. When I'm finally healthy again I will post a detailed pictorial.
(Products Used in previous pic)
Step 1: prime entire lid - I used Soft Ochre paint pot by MAC.
Step 2: cover entire lid in Brulé by MAC, this helps the blending process.
Step 3: using a pencil brush apply a dark brown shadow in your crease & wing it out.
Step 4: using a blending brush, take a lighter brown & blend out your crease.
Step 5: apply a shimmery white/cream color to the lid & wing it out under the brown. LIGHTLY blend your crease out again to prevent any harsh lines.
Step 6: apply your favorite black liner & wing it out slightly under the white shimmery color. I also smudged it along my bottom lash line about 3/4 of my eye.
Step 7: take that dark color you used for your crease & apply it to your lower lash line, if it's too dark use a clean blending brush and BLEND :)
Step 8: last but not least, white kohl liner in your water line, your favorite mascara & false lashes if you're feeling frisky ;)
Don't hesitate to ask any questions! Thank you all again for all the sweet comments!
Comments