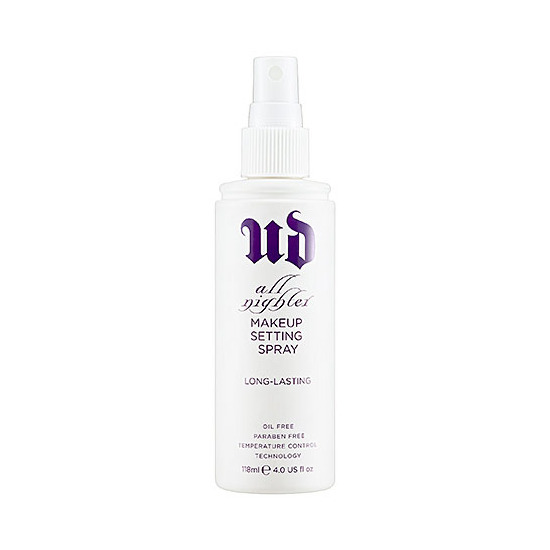 Rollover image to zoom
Reviews
Save your money!
Model in a bottle was always good and even before that setting spray Hair spray always worked well at my runways shows. Do yourself a favor and save the $30 something bucks. Buy some hair holding spray...that's all this is.
Complete Adoration!
I have never, in all my beauty life, experienced a product that performs as promised as well as this product does. I've heard stories of girls sleeping in their makeup and waking up looking just as perfect as when they sprayed their face. For me, it came down to setting my makeup in a hot, sticky environment. I have pretty oily skin and sweat very easily, so when the air conditioner went out at work last summer, my makeup was literally just melting off of my face. Then I discovered this product and could wear beautiful, full face of makeup again with no worries. Cannot recommend this highly enough!
Dec 11, 2012
I wanted to love it
I'm a UD addict, I admit. So when I saw the monster XL bottles I assumed I'd love them just as much as Makeup Forever Setting Spray if not more so I went ahead and stocked up. The mist is very fine which is great, BUT, on each bottle (three of them) there's like the rogue spritz from the sprayer. So the mist is fine all over and your drenched in one spot almost like a mini squirt gun. Maybe I'm just lucky with three bottles of crazy sprayers, not sure.. but that stinks. It did set my makeup nicely for a few hours. But I was underwhelmed to say the least. My makeup looked no different than if I hadn't used any setting spray at all. So as much as I wanted to give this a rave review.... it fell way flat. The UD lid primer still kicks everyones butt though..... just to leave it on a positive note;)
Jun 01, 2012
Great Product
Keeps makeup from running, smudging, or fading! It's just another great product to help your makeup stay put!! I also use it to dampen my makeup sponge instead of using water. Love love!!
Aug 13, 2013
I like!
This is one of the best setting sprays that I have tried personally, I went to a rave with my full makeup on left with a full face of makeup, This stuff does work through hard dancing and what not. I do recommend this if you're looking for something to set your makeup for an event of some sort, don't recommend for everyday use, afraid it will start clogging your pores after long term use.
Feb 15, 2013
Water proof make up? you got it, in a bottle.
I used to set with powder. Powder everywhere. The powder didn't work so great either... so when I went into Sephora helpless asking "how do I set my makeup, I need the BEST setting powder you have" and they handed me a bottle of this, I was confused to say the least. This stuff is amazing. Any makeup you wear stays and stays, it makes it water proof if it's not, you don't have to prime you don't have to do anything, you just set and spray! It lasts through crying, rain, rubbing, everything everything everything I've just never had this stuff fail. I want a travel size so I can keep it in my bag in case I have to touch up on the go. I love it! If I have to do my makeup on the run and I don't get to use my UD setting spray, I notice! my makeup rubs off even with the best setting powders I can find. This stuff is by far one of the best products I've ever used. This, my Dior Show Eyelash Primer, UD liners, and my Dr. Jart's BB Cream, those are my 4 in-disposable makeup products.
Jan 13, 2013
REALLY sets makeup
I was so excited to try this spray as I was looking for a product to keep my makeup set without making me looking cakey, now I understand that this sets your makeup however I did not expect it to feel like hairspray on my face. It seemed to work fine until I tried to touch up my makeup and blend some fine lines and touching up with a little powder, boy was I lucky I was home when I tried this, by adding a little powder my makeup became super blotchy and looked HORRIBLE! I would say this will work great if you wont need to touch up throught the day however if you do then Id recommend sticking to something like fix plus.
I find that when I go out dancing my makeup doesn't last very long. By the end of the night it would be halfway down my face. Those days are gone thanks to this little gem. I had a party to go to one night and spritzed this on. I partied in to the late hours, fell asleep without getting a chance to remove my makeup and it was perfect the next morning. I was amazed
Jacqueline H.

Jun 27, 2014
VERY VERY Overrated
" Keeps your makeup looking gorgeously just-applied for up to 16 hours – without melting, cracking, fading or settling into fine lines. " Uh, me thinks not. I truly believe that this spray does nothing that it says it does, but then again, I think people have a lot of misconceptions about what a setting spray really is, and what it is capable of doing. The term "setting spray" is a slight misnomer. These types of sprays can help "set" makeup from the point of view of "emulsifying or harmonizing it, but it doesn't "fix" it in place. Don't get me wrong, a setting spray can help your makeup to blend and and take any hard powder edge off; however, a setting spray doesn't particularly prolong the actual wear of the makeup. Setting sprays are great when there are a lot of powder products used on the face; powder, powder blush, followed by powder highlighter, powder contour and so on and so on. When these powder products are applied over a matte foundation, it can and usually does leave your skin looking dry and powdery, kind of like its just sitting on top of your skin. This can be the case no matter how well you blend your products. A final spritz with a setting spray helps it all mesh together a bit better and stops it looking like it's just sitting on top of your skin. It's not a particularly necessary step, but if you're going for a matte look, or using lots of powder products, a setting spray does help to give the overall finished look a final polish. As a general rule, setting sprays are made with some form of purified water and botanical extract. (e.g. cucumber for pepping the skin up), and oils like vitamin E. Some setting sprays may contain caffeine in them as well. Since setting sprays are are oil+water emulsion, they can be used to set makeup, because the oils will "pop" the microspheres in the makeup. If you place some makeup on the back of your hand, then hit it with a setting spray, you'll see that the setting spray will settle over the makeup without beading up. All a setting spray does in terms of longevity is make the makeup more smudge resistant, no more no less. fI you are interested in extending the longevity of the application, what you want is a finishing or fixing spray because these types of sprays work differently in terms of actually adhering the makeup to the skin versus a setting spray that only works to make the application more smudge resistant. In my opinion, the UD All Nighter Setting Spray is probably the most popular yet over-rated setting spray on the market. I find that it cannot and does not do what it says it does merely based upon the ingredients of the formulation and my actual use of the product. I prefer the Make Up For Ever Mist and Fix and Kat Von D.'s Lock & Load setting sprays far more than the UD All Nighter. Both of these sprays work to emulsify, perk up and/or touch up the makeup while making the application truly smudge resistant. Sorry, thumbs down on the Urban Decay All Nighter for me.
Nov 15, 2013
Perfect!
I love this setting spray! It's perfect for helping makeup stay put on my oily skin. I often have 12+ hour days as grad student, and thanks to this stuff, my makeup stays put and I look put together.