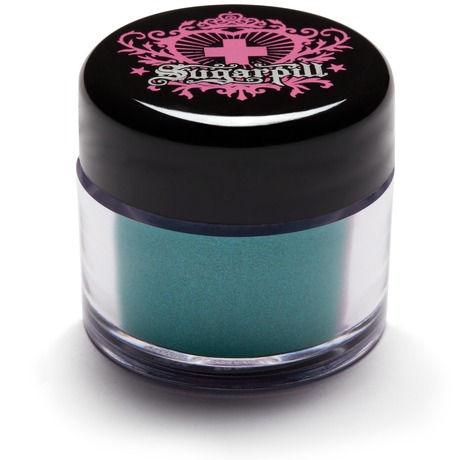 Loose Eyeshadow – Darling
$12.00
Only 3 remaining. Order soon!
Sugarpill Loose Eye Shadow in Darling is a stunning teal loaded with iridescent turquoise star bursts. Highly pigmented and velvety smooth for easy blending and stay-on power. Vegan.

Loose eyeshadows are packed by weight. However, some ingredients may still settle during shipping, which gives the appearance of being less full.

* Colors are swatched over bare skin and over a primer/base
Mica 77019, Titanium Dioxide 77891, Blue #1 Al Lake 42090:2, Hydrogenated Polyisobutane, Palmitic Acid, Boron Nitride, Magnesium Myristate
Feb 14, 2014
Love this makeup line!!!!
I love everything about Sugarpill and this pigment is no different! Excellent color payoff and it's just so versatile. I can't wait to purchase Goldilux and Lumi!!!!! The amount of product you get is just ridiculous! Definitely money well spent!
Nov 07, 2013
Amazing!!!
This product is simply beautiful! It's true to color, vibrant, and quite pigmented. I love using it with Carbon by MAC for a colorful smoky look. Darling looks just as good with Espresso by MAC for a softer smoky eye. I also use it with a mixing medium and apply it as a liner. I love the packaging and you get a lot of product. I will be a long time getting through this product. I can't say enough good things about it!!!! I am so looking forward to purchasing other colors in the near future. But I'm really excited about the new neon loose eyeshadows! I have other Sugarpill items and the quality is excellent the other items. I most certainly repurchase this when I do run out.