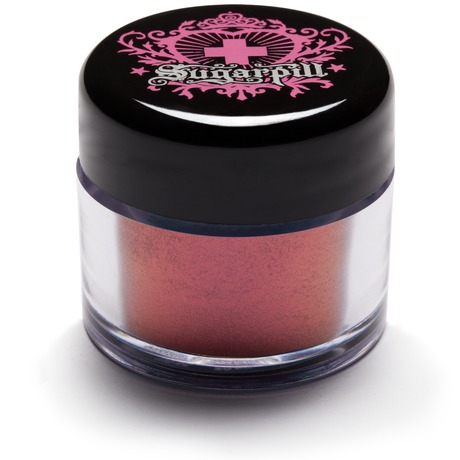 Loose Eyeshadow – Asylum
$12.00
Only 2 remaining. Order soon!
Sugarpill Loose Eye Shadow in Asylum is a shiny sexpot red with dramatic sparkle. Highly pigmented and velvety smooth for easy blending and stay-on power. Vegan.

Loose eyeshadows are packed by weight. However, some ingredients may still settle during shipping, which gives the appearance of being less full.

* Colors are swatched over bare skin and over a primer/base
Iron oxide, Silica, Polyethylene Terephthalate, Boron Nitride, Magnesium Myristate

Red, She Said...
I've been a makeup artist for 16 years working with people from all walks of life, using just about every brand you can think of. It was always hard to find a red eyeshadow until one of my co-workers suggested Sugarpill, I was very wary about loose shadows, but when I tried the sample, I fell in LOVE. Asylum is crazy red...put me in a straightjacket with my lids coated in this beautiful color!!! So true, rich and pigmented, I almost ate it!!! Definitely will be collecting :)

True Red
This is a true red. It is beautiful and vibrant with shimmer. Use with a mixing medium to further intensify and create your own custom color for eyes, cheeks, lips, or the body as well. What I also love about this pigment is that it does not stain the skin, and comes smooth off with regular facial cleanser or makeup removing products.