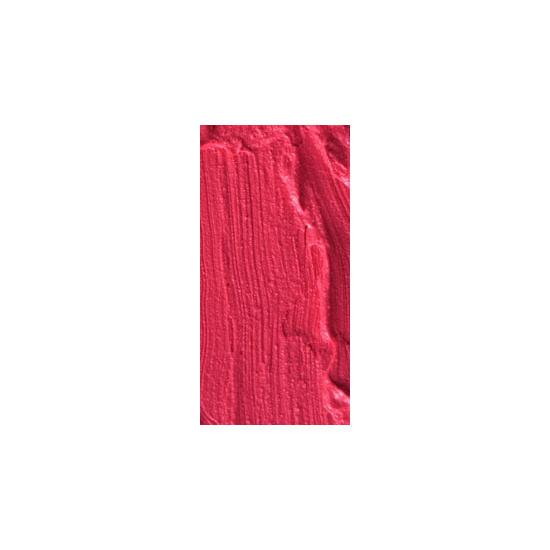 Rollover image to zoom
Reviews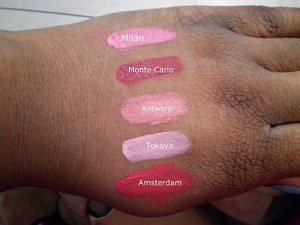 love love!!!
I love this Lip cream. I have all 11 shades. and its what I've been reaching for instead of my other lippies. But a tip: Never put this on a bare lip. use a lip balm on first. Definitely worth the money! I have a swatch on my blog the first 2 pictures are the swatches http://theshells23.blogspot.com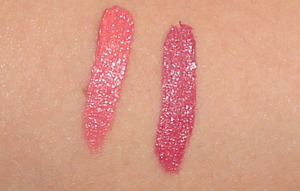 Great Shades, a Little Drying
These Lip Creams can now be found at ULTA, nyxcosmetics.com, and cherryculter.com for around $6. These creams are available in 11 shades ranging from nudes to a deep reds. They have a sweet vanilla scent that I found very pleasant. The feeling of these when they are applied is very hard to explain, but it is a very soft and silky feel. Application isn't too difficult with a sponge tip applicator, so it allows for more precise application. However, you will notice that it takes a few swipes in order to get the color as even as possible. I apply these much like how I would apply a lip gloss. But these creams give a very good color pay off and are fairly opaque. The two shades I purchased are rich and vibrant in color. As with most matte formulas, any flaw in your lips is more likely to show. I would recommend using a lip scrub followed by a lip balm to prep and moisturize your lips. I would apply the lip balm a half hour to hour before application to prevent any slipping. The most disappointing aspect of these creams were how they dried. When first applied, the creams appear slightly glossy, but dry to become matte. Once completely dry (10-20 minutes) these lip creams completely settled in to every nook and cranny on the lips. They over emphasized all of the lines and creases in my lips and I found it quite unsightly. Because they are matte, they do feel a bit drying. I applied a light gloss that eliminated the emphasis of my lip creases, but that defeats the purpose of a matte lip. With the gloss, I got almost 3 hours of wear. Overall, I'm not sure I would recommend these to be worn alone unless you like a "cracked lip" look. However, if you fall in love with a shade in this collection, wearing a clear gloss as a top coat will prevent the "cracked lip" look. http://izntlifesojuicy.blogspot.com/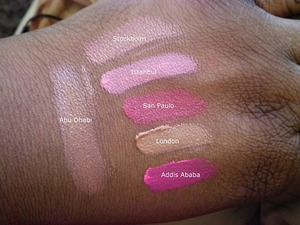 Heres another photo of the rest of the swatches
I hope you guys love them! They are well worth the money! oh and they last all day!!! It doesn't transfer to cups, teeth etc. LOVE!! Check out my channel as well http://www.youtube.com/theshells23
Jul 03, 2012
Good but with multiple applications
This lip cream is fabulous for the price. It dries to a matte finish. The lip cream runs a tad bit transparent for my taste so multiple applications is used to ahieve an opaque look. The shades these lip cremes are amazingly great and have a great glide on texture to them.
May 24, 2012
I now know why everyone is in love with these :]
These are great. I picked one up at Ulta. It's so pretty. It's definitely different than anything I've tried before. It dries to a nice matte finish and is very long lasting. Plus it smells good, like cupcake or something lol Defnitely repurchasing more of these ;]
OMG!!! I love this product!!! I have it in 3 shades and they are all gorgeously pigmented, and they last very long. They are matte but not too drying, and you can add a little gloss if you want some shine. I am obsessed with it!
matte to the max
PROS: The pigmentation is awesome, and the matte finish is even better. This product is really cool, because it goes on wet and dries to a very matte finish. It is also pretty cheap, cheap enough for me to have it in every single color. CONS: If you have dry lips, don't use this product. It is very drying. I usually put on lip liner before using.
AMAZING
Every time I wear this, many people come up to me and ask about it. They can't believe that it is a drugstore brand lipstick! It looks and wears like a high end lipstick. Very easy to apply and stays on for the day. Definitely recommend Stockholm for a natural everyday lip color.
4 weeks ago
Not the best
I love a good matte lip and I love nyx products, but these creams I just could not get in to. I bought these after reading some reviews online about them and their long lasting wear. I found them to be very drying to the point where I had to put lip balm under and over them (which essentially defeated my matte look) and they still tended to dry out my lips. Also I thought they looked very cheap and they tended to last for about 20 minutes on me without eating or drinking (they were completely gone by the time I finished any sort of food or drink). Also after the lip cream was gone I didn't feel like they even left any color to my lips at all. I do not plan on repurchasing these any time soon.
YES
I can't get over how much I love the soft matte lip creams. Wonderful product. It goes on like butter and looks beautiful on the lips. The finish looks very velvety. I NEED to purchase all the shades, I've currently only got prestige which wasn't listed in the shades list. The only downfall is the staying power isn't the greatest, but not enough of one to make me not want to but more!