Rollover image to zoom
Reviews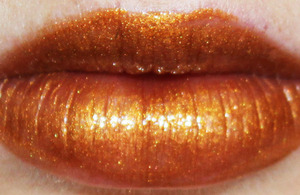 Gorgeous colors!
I have Golden Ticket and am in love with the colors. I have also seen swatches of all the other shades and the color options are amazing! I am dying to try the purple & blue one. These glosses are really opaque which of coarse equals a heavy feeling but you get used to it after a while. They are slightly more sticky than I would like but a little goes a long way with these. And they smell delicious! Like Vanilla!!
Aug 17, 2012
High pigment fun!
After purchasing Cherry On Top I want the whole collection and pray that they bring out more! This can be used alone or on-top of any Matte lipstick for a super glossy but not sticky finish. There are incredibly pigmented with the perfect smattering of glitter. Vanilla cupcake scent make these easy to wear without feeling sickly. The gloss doesn't last terribly long but does leave a tint behind hours after the gloss has worn away. This goes so well over Lime Crime Retrofuturist or Centrifuschia or alone for a less high-impact look. Pair with a simple cat-eye for a quirky retro look.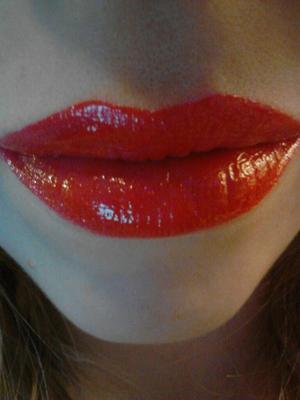 Love the shimmer
I don't normally wear lipstick or gloss that has a lot of color, but these are sooo beautiful you just cant help it, I got Cherry on Top and I am in love!!!
I have Snocicle, Candy Apple, and Present
Candy Apple and Present are not true to color. Candy Apple looks very red and not dark red, Present is a red plum and not very purple. These glosses are VERY sticky, in order to get an opaque coverage like the company swatches you need to do 2-3 layers. Once you get those couple layers on it goops up and starts traveling to the inside of your mouth and teeth and feathering VERY badly. They work OKAY on top of lipsticks, there is still feathering, I would only recommend one layer on top of your lipstick, and it wears off in less than an hour so it takes constant reapplying. The only gloss I like is Snocicle. Since it's a clear gloss with glitter you don't have to wear but one layer, however the glitter is very gritty feeling on your lips. The brush is very small so I would not recommend wearing Snocicle on top of lipstick because you're going to get the lipstick pigment inside the bottle and change the color because it takes a lot of dipping to get enough gloss to cover your lips because of the brush size.
May 25, 2012
Fun Color
I picked up the Candy Apple Gloss after watching a tutorial on here - I love the color and I love the effect when I wear it over other matte reds (MAC's Runway Red, MAC Prolong for example). I see that other reviewers have had better experiences in terms of how long they last - that has not been my experience. I would consider the gloss a one drink or cigarette (I don't smoke any longer) level in terms of how long it lasts. Still, they are fun and truthfully wearing the glitter gloss is not something I do all the time.
Apr 23, 2012
LOVE THEM!!
I have 2 and I hope they make more like brown and more fuchsia purple. These are well pigmented and very glittery! What makes them EVEN BETTER than dazzleglasses they are not sticky and have good staying power. They go wonder over lipsticks and they are kind of thick but I love them.
Very Fun Colors
These bad boys really add fun to your day! Not everyone would wear these colors. But most people would gladly wear the red ones. They're fun..but super sticky, and very thick. This is something you just have to see to believe. And once you do, you'll love them!
Excitement!
I couldnt wait for these little babies to be released after falling in love with their lipsticks. I have Cherry On Top, Loop-De-Loop and Candy Apple, and must say, theyve done it again!! These lip glosses are my new favourite makeup toy, without fail. They glide on with ease, with no stickiness or greasy feeling that is often associated with li glosses, and once again Lime Crime have infused their newest products with highly pigmented, stay true shades! But this time, with a whole new scoop of fairy dust!! Thats right, each one has its own tailored shade of fine glitter to compliment the shade, leading to the most lucious, moist, 'notice me' lips ever! If youve not tried them yet, do it! You wont be dissapointed <3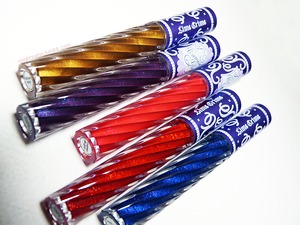 Good, playful glosses~
I bought all 5 of the glosses and really enjoy their colour payoff. At first when I saw the brush I was a bit disappointed because it's quite stubby and compact so it took a couple tries on application to really figure out how to use it right. What I like to do is outline my lips with the first coat and then begin to paint them in gradually. The gloss is slightly sticky. When I first applied I put on a lot of product because I wanted it as opaque as the promotional shots which made my lips incredibly sticky so that was a bad impression. Less is more with these and just be a little patient with the brush. Otherwise, I really enjoy the colours and the shimmers. It lasts no longer than any other gloss I own but I didn't expect it too. What it does leave behind is a nice stain which, for me, I don't mind. Especially with the cherry on top and candy apple, it looks nice and natural. I ordered these on cyber monday and was impressed with the fast shipping (got them in on friday). Good glosses :)