Tinted Moisturizer - Oil Free – Fawn
Laura Mercier Tinted Moisturizer SPF 20 in Fawn is a sheer, lightweight, buildable foundation that can be worn by all skin types but especially those with acne prone, sensitive or oily skin. The Fawn shade of this tinted moisturizer is ideal for medium skin with pink tones.

Rachel H.

Oct 14, 2011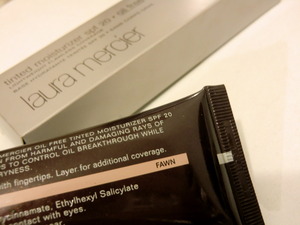 My go-to tinted moisturiser
I absolutely love this tinted moisturiser. I cannot go on a day without applying this as a base before applying makeup. It exudes the right amount of moisture with an extra SPF 20, leaving your skin dewy, nourished and protected. I have a problem with my t-zone becoming too oily during the day but this product is great at keeping away oil and shine.

What's also perfect about this product is the sheer coverage it gives. It doesn't feel too heavy on the skin and is perfect for wearing on its own or as a primer. I love it.