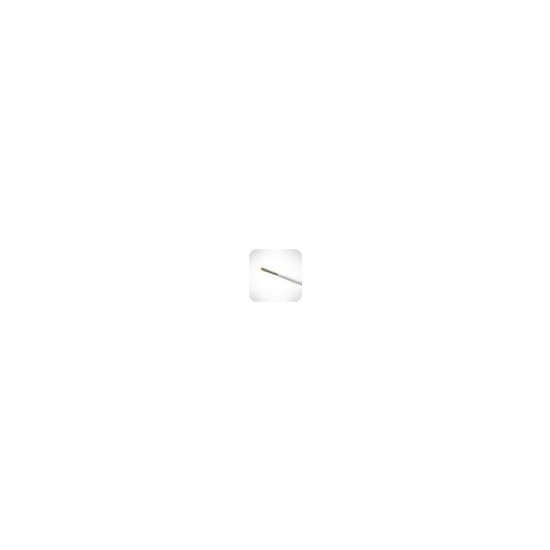 Rollover image to zoom
Reviews
Feb 06, 2013
This is too small for a concealer brush in my opinion, but I still like it!
I use it to smudge my underlashline shadow, or to simple apply an inner corner highlight. This little thing looked so delicate I was afraid I'd break it, but it's lasted me over two years now! Awesome! It picks up shadow pretty well, and applies it with little to no fallout, depending if your'e using pigment or pressed.
Not a Concealer Brush
Well, looks like I agree with almost everyone else who's reviewed this brush. I don't use it as a concealer brush. But, I didn't buy it for that purpose. I needed a small brush to use to apply eye shadow to my crease before blending (really just precise eyeshadow application in general). It works great for that and I've been thinking about trying to use it to apply cream eye liner as well. It's only $1, trust me, you'll find something great to use it for!
LOVE LOVE LOVE!! :)
Works great! And for only $1? AMAZINGGGG! It can be used for multiple things. I use it for applying cream eyeliner, but that's just me ;).
Works great for such a cheap price!
I honestly think this brush works really well for only a dollar; however, I do notice a bit of excess concealer...maybe I'm not blending it thoroughly(?)..but anyways, I still enjoy using this. :-)
Can't go wrong for $1!
This is very small for a concealer brush. I prefer to use it for cream eyeliners. It's dense enough to hold its shape, and is thin enough for fine lines.
Mar 08, 2012
I don't like to use this brush for concealer, because it's really dense and if you try to blend the concealer into your skin it's very difficult to blend it, it's easier to just use your finger.
Mar 04, 2012
It's cheap, and I love it. I personally never have actually used it for concealer, I usually use it for blending and small details. It's hard to find good brushes for so cheap! Love it!
Again, for the price of this product you can't do much better. ELF is great because they have super affordable products that get the job done. However, this brush is very small. It is not practical for concealing large areas but I do use it for concealing around my lip line when I do a red lip and also concealing around my eyebrows to highlight them.
Sojourner W.

Dec 26, 2011
Concealer Brush = FAIL, But Other Uses = SUCCESS
I agree with Shelley W., this is not good for concealer, but it has many other uses. For example I use this for lip lining, inner corner highlights, and my eyebrows. I wanted this as a concealer brush when I didn't have one, but it turned out to be way too small. However it is good for touching up spots that need extra concealing after a long day at school and I want to go out. The bristles are pretty soft as well. Overall I think is a terrible brush for concealer, but it has many other applications and for $1 can you really go wrong? Pros: - Mutli-purpose - Availability - Price Cons: - Not good for meant use of being a concealer brush xoxo Sojo
Dec 23, 2011
Has Better Uses Other Than Intended
I originally picked this up for doing spot work with my concealer. Not very successful. Instead I found it to be useful to give precision for my dark lip colors. It now has new life as a lip brush instead of a concealer brush. I'm not mad....I only spent a $1 on it at Target.