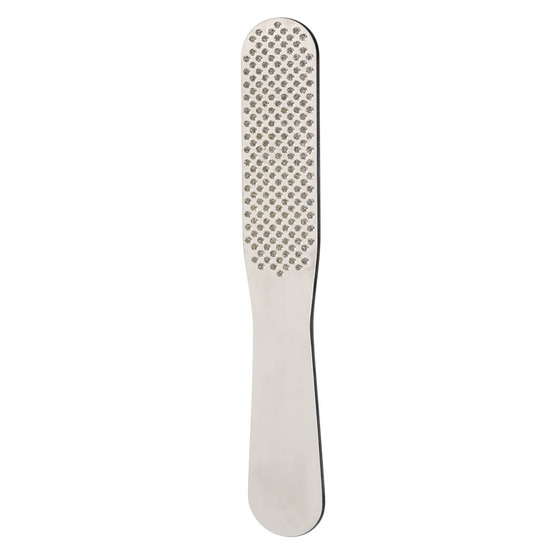 Rollover image to zoom
Reviews
Rough spot savior
I know it looks expensive at first, but those $20 mani/pedi sets add up. For the price of two pedicures you can get a file that really works on your rough spots. At night I would shower, dry my feet a bit, run the Diamond File across the callused or rough areas, cover with lotion, and put socks on. The next day the calluses are in much better shape. I did this routine once or twice a week for about a month before I considered my feet and heels to be sandal ready. Right on time for breaking out the flip flops and sandals! Another major bonus is how easy this is to clean. I sterilize it in hot water after a soap down with dish soap. Unlike normal sandpaper or buffers the file strength doesn't go flat after a few uses. I bought mine years ago and it's still going strong.
A good investment
I use this product on my clients at work. Yes, it is a bit expensive, but if you look after it it will last you for years. Easy to clean and sterilise as well. This file is perfect for very thick dry skin as it doesn't scratch at the skin like a normal 'cheese grater' style foot file does. It just buffs the skin off and you end up with very smooth feet. I usually follow with the #11 file for a perfect smooth finish.
Jan 12, 2015
makes rough feet smooth
I'm still bummed I can't find my Diamancel Foot File.....it literally was the best thing to happen to my feet. Years of dancing caused my feet to have some rough heels and calluses (also in part to my dad's genes, thanks Pops!) and this was one of the best foot files I have EVER used. It is super easy to use but will last you for a very long time and definitely smoothed down the rough spots very quickly. I loved how sleek it is and it made packing into a suitcase a breeze....which is also probably how I lost mine. Right now I am making do with a foot file I found at Sally's but I would re-buy this in a heartbeat!