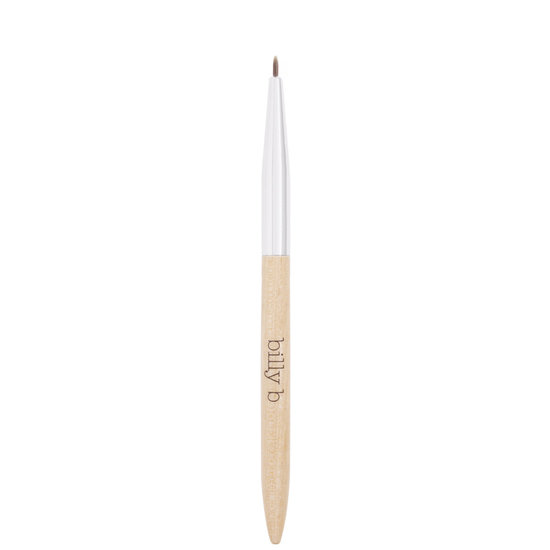 Rollover image to zoom
Reviews
Jun 19, 2014
Undereye bags...going, going, GONE
I have tried every brush in my house to cover my under eye bags and nothing worked quite right. The trick is to just lay concealer in the narrow little trench under the bag. If you get concealer on the bag, you've blown it and actually made the problem worse. This brush fits perfectly in that little trench and is firm and supple enough to lay down cream concealer in a smooth line. It feels very soft to the touch and doesn't drag on the sensitive eye area. I would use it as a liner brush as well, but I haven't tried that yet. The brush feels very nice in the hand. I like the thickness of the handle and the heft of it. The end that holds the bristles looks solid as can be. The wood is a nice touch and so is the very readable font on the brush. Wish all brushes were this well thought out. LOVE.
Jun 15, 2014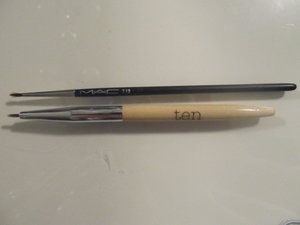 Liner gaps NO MORE! HG PERFECTION!!!
BillyB #10--how do I love thee? Let me count the ways.... This little jewel is liner perfection! It's soft enough 4 even the most delicate of eyes yet at the same time firm enough 2 make a statement--if liner perfection is what u want--this is the tool 2 make it happen!! I've added a pic 2 show just how closely the bristles of the BillyB#10 'appear' 2 resemble MACs 210. But don't let looks fool u--these r in no way alike in performance--even tho they 'look' similar--the difference lies in the flexibility of the bristles. Yes, they're both soft BUT the MAC lacks the firmness that the BillyB 10 has-- making the BillyB 10 far superior! Of course--as 2 b expected--it applies gel or liquid liner (Inglot-my weapon of choice) w/an added flick like a dream, but in experimenting further--I've found an even greater reason 2 love this little guy! I absolutely LOVVVVE 2 use it w/my 'Sugarpill Bulletproof' black eyeshadow (yes, another Beautylish love of mine) 2 line as well as smoke out my liner but what truly blew me away is how perfectly it fills in all the tiny gaps between ur lashes that u never seem 2 b able 2 cover completely! Believe me, this is a Godsend 4 exactly that! I simply smudge it back & forth gently b/w the lashes & it coats every last bit of it! No more gaps 4 me--nor 4 u either b/c if ur a perfectionist like me--#10 is ur answer! Thank u BillyB & Beautylish!! I have 3 of these --& am tempted 2 buy a few more! I NEVER want 2 b w/out this baby!!
Sep 10, 2012
You DO NOT have anything like this in your kit...
---i promise you. It's not a surprise this is sold out. I have over a hundred brushes in my life...I have nothing like this one. Paint Brush Ten is outstanding. Besides just being a great brush for liquid or gel liner, you can create the most detailed design with this brush. It's firm but not too firm, its soft but not too soft...ya feel me? Buy it with confidence...order more than one because someone will inevitably steal it from you if they try it...accidentally of course ;-)