Pink With A Splash All-Over Body Mist in Sunny & Happy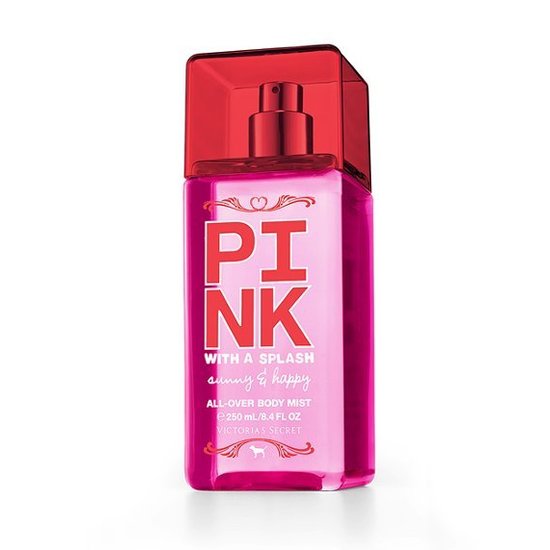 Rollover image to zoom
Reviews
Feeling refreshed!
I didn't really like it at first tbh but after a while it grew on me every time I went for a work out or had a shower I'd automatically go out this on and I fell in love it smells so refreshing and just happy and energetic I'm glad I didn't ditch it but stayed and fell in love
Smelled Great and Was Refreshing
I bought this 2 days ago at Bath And Body Works and was astonshed at the wonderful smell! I've never purchased anything from Victoria's Secret or PINK so I didn'd know what to expect and now I know that I will go into those stores with a positive attitude after purchasing this!
yummy
These are great for summer especially! they're just light enough and the smells are so pretty. Victoria's Secret scents in general are pretty much all a hit with me. You can't go wrong! There's something for everyone, and every occasion, whatever you're going for.. sweet, sexy, whatever!
Lovee this in pretty and pure and in fun and fearless. I love applying the matching cream and spray right after i come out of the shower (: i feel more refreshed and clean.
Anything for PINK
I love all the scents that Victoria Secret has. I never know which one to get . This one is a nice fruity smell and my skin feels soft in the areas that I have applied the scent to. I would recommend anything PINK especially during the Holiday Season for that one person you have no idea what to get.
Victorias Secret: PINK Body Mist
Smells good, but kind of cheap and chemical-like scent. Wears off fairly quickly and you need to reapply frequently. The glitter versions of the "Victorias Secret: PINK" line run out about two times quicker than the regular sprays,
awesome!
This light-weight body splash is perfect for those school days when you want to smell fantstic! I love using it all year round! In the summertime I use it most beacause of the lightweight formula! <3
p!nk
i really like this scent its light nad not overwhellming but always manages to make me feel pretty and girly. sometimes one squirt is all i need to lift my spirits ;)
Sunny & Happy
This is one of my all-time favorites from the PINK body mist line. It smells amazing, the scent is long-lasting and it may just be me, but when wearing this fragrance I do tend to feel a boost in my mood.