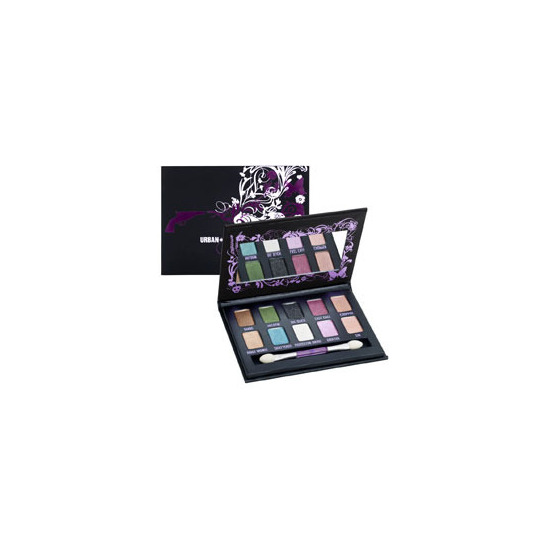 Rollover image to zoom
Reviews
ahhh U.D ya did good!
Because of this palette i will buy more u.d palettes. Pigments are great, color selection is wonderful you get these very versatile colors and with a decent primer you can get a good 5 - 6 hour wear. My favs are "Last call and "Maui Wowie" <3
My first eyeshadow palette!
This was my first ever eyeshadow palette two years ago and it's what kicked off my obsession with makeup. I realized "Oh so THIS is what good makeup looks like!" It was so easy to apply, especially for a beginner. Sin and Last Call are perfect for every day looks for a beginner like I was. I hated then, though, and hate to this day the chunky glitter shadows like Grifter, Oil Slick and Polyester Bride.
LOVIN IT
This is one of my favorites . I love it because its glittery and all the colors are pretty.My most favorite color was pearl and now its all gone lols .I also agree Steph sje said it all =)
Blah glitter.
I'm a huge fan of sample sets/multi-color palettes because they let me try out a variety of products so I can weed out colors I would never wear. I bought this palette because it seemed to have a good deal of colors I'd actually wear and it had the least amount of repeats when compared with the other palettes. I really like a few of the colors, but I also really don't like the glitter that ends up all over the rest of my face.
Fabulous!
This eye palette has lasted me over 4 years. The colours are versatile! I usually use the gorgeous white colour first, then a middle colour being any of the others, then finish with the black. These are glitters, so I wouldn't recommend this palette for glitter haters. Although, the glitter hasn't dropped or flaked, in case that helps you! If you pop on the UD Eye Primer underneath, these beauties will stay on until you wash it off. If you like quick and easy make up application, a range of colours all in one palette, then you should give this a go! It will last a long time. The white is my favourite shadow!
Pretty pigmented
Packed with just enough pigment which is a must have for me. Downside is the purple (called 'last call') comes off as more of a burgundy redish color, not purple at all. Still love it though!
Ugh, just not for me
I was given this palette as a gift from my ex because he knew I loved UD. I wasn't a fan and only wore the shadows for him. The colors themselves are not bad, my problem comes into the fact that most of the colors are glitter. For one, I hate glitter, keep that stuff away from me! But then there is also the problem that, unlike all their nonglitter shadows, these shadows are not soft! I have to scrub at the shadow to get it on my brush and then it doesn't go on very pigmented, I have to apply several layers, which isn't fun when the shadow feels rough instead of smooth (like theirs usually are). Also I found there to be much more fall out with the glitter shadows. This palette is a miss for me.
This is a really great every-day kind of palette. I usually take this one with me when I travel, too, because it is so versatile. It has enough shadows to make soft, daytime looks and bold, nighttime looks and everything in between. My favorites have always been Last Call, Sin, Smog, and Mildew, though all of the colors are pretty great. There is some glitter fallout from shades like Chopper and Polyester Bride, but nothing that isn't too hard to manage. I have given several of these palettes as gifts, mostly because I love it so much and it makes a nice segue into higher end cosmetics. I have not tried the reformulated version yet since mine still has miles to go; I believe I have had it for about 4 years.
GOOD UD STARTER PALETTE
I bought this product several years ago and fell in love with it and Urban Decay. All the colors are great and good quality, the only reason I don't use it that much anymore is because I have all of the same shades in more recent palettes. I don't personally care for all the colors in the palette, only because I feel there are better colors by UD that I would have chosen over these, but the colors are still beautiful. I would recommend this to anyone new to makeup or UD.
Great selection of Colors!
I am in love with this palette!! This is my newest addition to my makeup collection and I am very very happy! I originally went in looking for just a pretty olive green color for my eyes. I figured I'd spend the extra money for the palette vs. the single so I could get more bang for my buck. I stumbled on this palette and picked it up instantly.. The colors really stand out no matter what color I tried. I love all the glitter and shimmer colors too, I have a bunch of matte's already so I didn't mind this one not have any. The green I wanted is Mildew and its striking next to my brown eyes, make them really pop. My second favorite color is Last Call, it's just dark enough to be able to blend a little in with one of the neutrals. I'd say get this, 100%, if not for you than for one of your friends.. Christmas is coming after all. =)