Eyeshadow Primer Potion Professional Size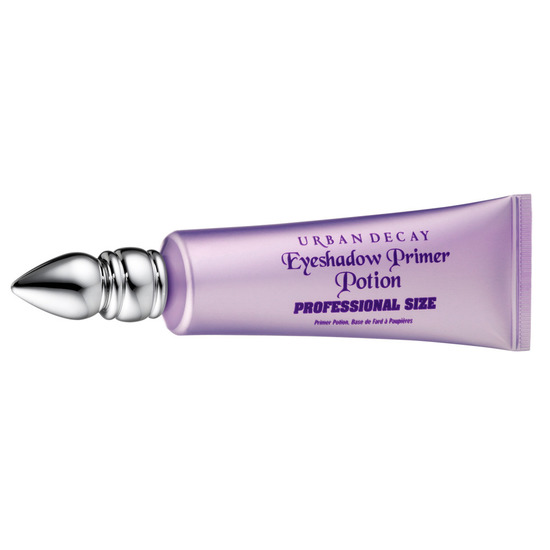 Rollover image to zoom
Reviews
The Professional size probably isn't the best buy
I purchased the Professional UDPP the week of the first release of package changing to tube. The increased size of 25 ml of product for $30 over the 10 ml for $19 was also a big draw. The product is fantastic. All brands of eyeshadows last on my eyes all day long. The problem is that UDPP has a 6 month expiration date. Though it lasted beyond the 6 months, I wound up throwing away half of the product. Unless you are a MUA who works with several clients a day, it would be more cost effective to purchase the regular sized tube of 11 ml for $19. Bigger is not necessarily better.
An everyday must have
I bought the professional size of this, mostly because it comes in the squeezable tube, and I use this product daily. One tube usually lasts me about a year, before it's almost gone. Once I start running out, it will get sort of dry, and more thick than it originally was, but it's still as effective at keeping my eyeshadow pristine. So I use it down to the very last drop before I go and re-purchase another professional sized tube!
wasn't good but wasn't bad
It's not that the product was bad actually I liked it did what it was supposed to do but I feel like there is better and more affordable primers out there
Lasts and brightens!
Great primer, easy to use/wipe off, lasts all day and night for me (and I have oily skin). I have tried other products, and have noticed a crease. Whereas, with this primer, no creases! The lovely ladies at Sephora actually gave me a sample - that went away quickly. Ended up going back and buying this size... totally worth it, makeup junkies!
awesome!
This product is amazing! Like the other reviews says, it lasts for hours, i never see a crease, and a good price! If you have oily skin/oily eyelids, you can stil apply a small amount over the eyelids without wearing eyeshadow.
This primer lasts FOREVER!! It's so great, and the amount in this size of the product will last so long. I doubt that I'll ever need more!! It makes your eyeshadow pop and stay on your eyes. It's also good for filling in those smile lines (Thanks MissJessicaHarlow for that tip!)
I'm actually in love with this primer. It worked well for my eyelids since they get really oily and my makeup stayed put for the entire day. And I even fell asleep with my make up on a couple of times, yes I know it's bad, but the eye makeup held up even through sleeping for a while too. It is 100% worth the purchase. It's the only primer I use now.
Great for oily lids!
This eyeshadow primer is so awesome! My lids get really oily and my eyeshadow tends to crease, but this primer works so well at keeping my shadow on all day. My routine is to dab a small amount on my lids with my finger, put a neutral beige over it to set it in, then put on my shadow of choice :) It works great and lasts Iong, bought a tube about a year ago and I still have quite a lot left! Worth the buy :)
I started using this product years ago. Thus far it is the only primer that has really worked for me. Works well with oily skin. Reasonably priced. Lasts for the majority of the day. One of the best eye shadow primers on the market.
Most prized makeup in my kit!
This is a product I alway always ALWAYS have in stock. It makes your eyeshadows so much brighter and stay all day. I have oily skin and though we do not have oil glands on our eyelids my lids even manage to get oily and makeup WILL not stay without this product. If there is any makeup you will spend money on it should be this product. I always use it on the performers in theme parks who have to be out in the hot florida sun all day. It comes in other colors but I only like the original, and "Eden". Eden is a light skin color, while the original is clear. I do not recommend Eden for darker skin tones, it will look ashy and unnatural.