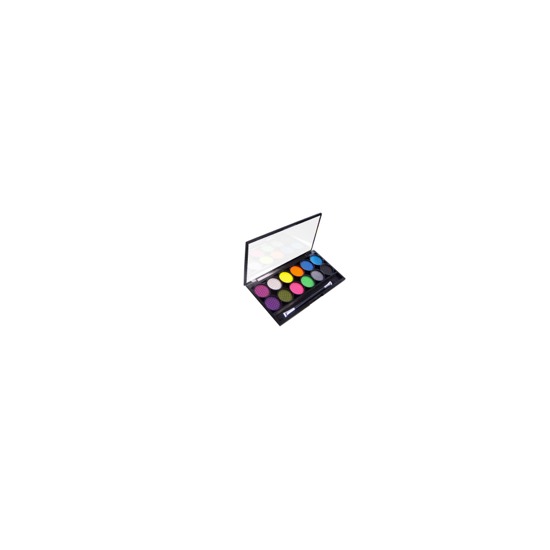 Rollover image to zoom
Reviews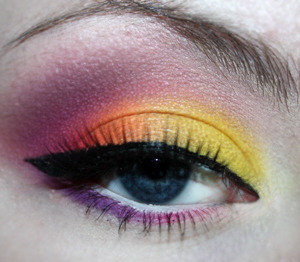 Amazing pigmentation!
I absolutely adore these palettes! I bought the Acid Palette because I didn't have any colours like this in my collection and thought they would be a welcome addition! The colour pay off of these shadows is amazing and the shadows are very blend-able and easy to work with. I ordered this palette online (since Sleek does not sell their line in Canada) and went completely on a whim after hearing about their palette's a few times and wasn't too sure but I'm so glad that I did!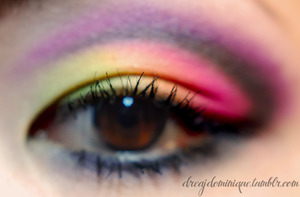 neon love
So amazing! My only qualm is that there isnt a matte neon blue or turquoise. I really would love that instead of having 2 shimmery/metallic blues that are very similar in colour.
Colorful palette
This is a good palette if you enjoy bright bold eyeshadows. It is really good quality for the price you pay and the colors are really pigmented, however, the neon shades are really chalky, some more than others and hard to work with. I have such a difficult time, especially with the green getting them to apply evenly and blend out. I really had to work at it and just ended up removing the makeup after becoming frustrated. I really went out of the way to get this palette and now that I have it, I kinda wish I didn't. I am going to work with it a few more times to see if there is maybe another way I can work around the chalky and patchy ways of the eyeshadows. Great bargain price, but would def pass it up
For a drugstore brand, and at a cheap price for 12 shadows, its not too shabby. The neons are chalky however, and since that was the attraction behind buying it, its slightly disappointing. Used over NYX Jumbo Pencil in Milk, the colours last. You have to really pack the colour on, but as far as bright colours go, the colour pay off isnt too bad. They're easy to blend, but with the shimmery colours I had a ton of problem with fallout. For the price, its great, for the actual product, its pretty good but seeing as it isn't sold in the US, with a shipping price combined, it wouldn't be worth the money. For those in the UK who love bright looks - definitely recommend
really love this. i bought this because of the neon-colours and i absolutely love them. the mat white and the two shimmery blues are cool and great to work with too. but to be haunest the khaki colour and the black are kinda weird. in contrast to the others they are 'hard'. the colours don't not get onto my brush. but all in all i love this palette and i'm glad i've ordered it
I gotten my hands on this palette and I love it! Using a base will make these babies pop like magic. I really love combining the yellow, pink, and orange for a pretty gradient. Haha, I wear these colors for a rave party and it's amazing. :)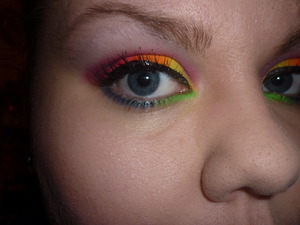 Amazing Quality!
I love this pallete so much! I purchased this about a year ago now, and i'd never really used it before, but I busted it out this evening and did a fun look with it, recreating a recent xsparkage tutorial! I love the quality of these shadows, although the only downside is that the four neaon colours are a bit chalky! Great quality and a great, inexpensive product over all!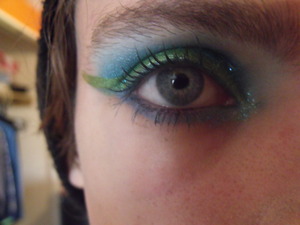 The Best Pallete ever!!
Hey Gorgeous People! I bought a ton of Makeup the other day and in that i got the Sleek Palettes (Acid, Strom, Sunset, The Original) I really loveee these eyeshadows they really are amazing, so pigmented as well as easy to blend. as you know i love bright out there colours so its obvious i would try the Acid Palette first! I love these colours because ive only ever seen colours this bright in cheap eyeshadows with very little pigmentation but these are amazing they have so much pigmentation from just one tap which i love i would have to say the purples are my favourite but! I really like this green, where else would you see a green as bright and pigmented as that. I love the little palette it comes in as it is very "Sleek" You get a mirror aswell with it so you can do make-up on the go! So if you are looking for eyeshadows but you don't want to spend a fortune i would buy these. They are only £6.49 a Pallete avaliable from either Superdrug in the UK or from http://www.sleekmakeup.com/ I would really suggest buying these! amazing!! 6 amazing colours for £6.49 = I think so ((A look i created using the Acid Palette))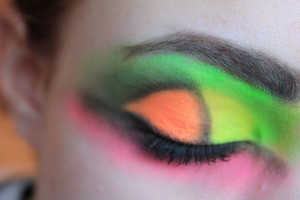 Heaven in a palette.
These palettes are sooo amazing! The colours are superpigmented, no matter if you use them as they are or wet. &! They are really affordable, & worth every single penny. If you like bright & colourfull make up, this is a must-have! Only tiny downside: When you live outside of the UK, it's only possible to order it through the internet.. (Am i right? o.O i think so. don't want to lie.) So, yeah. Amazing palette. :) Btw, i did this look with the colours. :>
Great!
These palettes are inexspensive, most of the shadows have great pigmentation. The only shades that i dont like so much are the neon ones in the center, although with a white base and primer they could look amazing, but they can be a bit chalky. The white shade is very sheer, its more of a natural highlighter (for fair skin). The eyeshadows vary from completly matt (purple, neons, black, white) to shimmery (pinky-purple, darker green, silver) to almost sparkly (light & dark blue) Overall i think the Sleek eye divine palettes are woth trying! xXx