Salmon Brightening Eye Cream
*To Use : After using the toner, apply an appropriate amount around your eyes, and tap the area lightly to help the skin absorb it.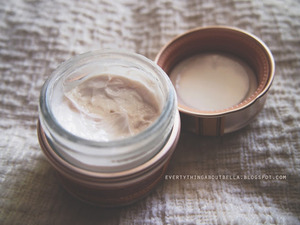 The consistency of the cream is quite thick but goes watery when applied, so a little goes a long way. It has a subtle smell to it but I cannot really describe it. I'm quite okay with the smell so it is not really a problem.

The cream takes about a minute to be absorbed completely and then it leaves an oily feeling to the skin. Although the oily feeling will slowly fade away after some time, it will not be completely gone. I personally do not really like it, so I just don't use this cream during the day.

I bought this eye cream because I am in real need to reduce the dark circles around the eyes and have only read good reviews about this. However, as much as I want this to really work for me, it just doesn't. I do not like the oily feeling it leaves and I have not noticed it making any difference for me. It does not reduce my dark circles and it definitely does not brighten my eyes. It is not that moisturizing either. Well, it's probably just me, please don't be discouraged to try this product. Who knows if it's gonna work for you :)

For more review: http://everythingaboutbella.blogspo...