Small Contour - F05
Ideal to apply, blend or contour powder products. Softly rounded dome tip smoothly blends colour into the face.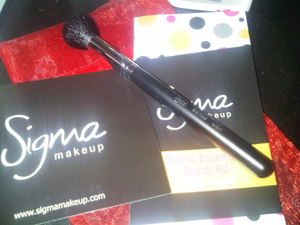 Better than the MAC 109
I am not a fan of MAC makeup brushes because all of the ones that I have purchase SUCKED! They sheds even after I washed them for the 10th time! I would get hairs all over my face. This brush has not given my that problem. It has not shed since I washed it for the first time. It doesn't leave hairs on my face and it is SUPER SOFT. It's dense enough to apply liquid foundation. Be sure not to press down too hard because it can shed if you are too harsh with it. It wasn't made for liquid foundation so you do have to be gentle when applying liquid foundation. Other than that this brush is PERFECT. My favorite brush to apply liquid foundation. It is WAY better than the MAC 109. In my opinion all of Sigmas brushes are better than MAC brushes. They are just made a lot better. Why would you pay $34 for a brush that you can get for $14? It's crazy! Just because something is expensive doesn't mean that it is high quality. Sigma is higher quality than MAC and their products are cheaper!!

amazing
oh my gosh! This brush is the best brush for contouring the cheeks and adding the bronzer to your face!! This brush is by far the best brush from the sigma collection i own!!! Deff buying a back up!! (: