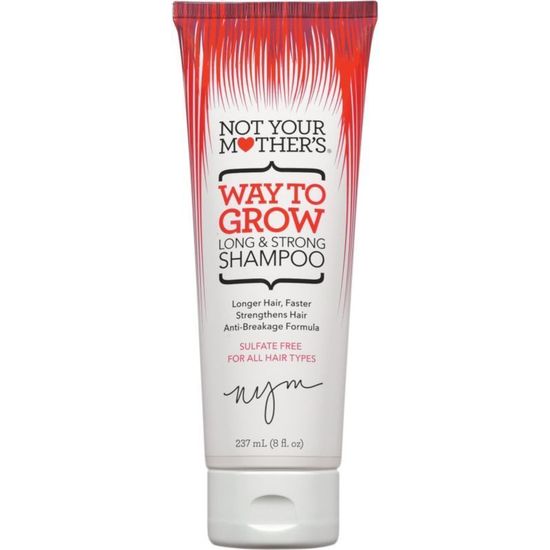 Rollover image to zoom
Reviews
SMELLS LIKE CANDY
i had been dying to try this shampoo ever since i saw it on wanelo, and when i bought it, i was very impressed. i always use sulfate free and it is very gentle which i like. it smells so amazing, i cant stop smelling my hair when i use it!! definitely reccomend!
Delicious Smelling
Keeps my hair feeling soft! It doesn't weight it down either. I have really thin hair and this keeps it looking great and feeling great too! I just love using this. The price is great for what you get! I wouldn't mind paying more either. Definitely worth it!
love it
I love the scent and how it makes my hair feel stronger and healthier. It's also safe for color treated hair (it's sulfate-free) - a big plus! Not Your Mother's does not test any of their products on animals (also a big plus).
Love it!
I love this product! After reading up and down reviews of this product I decided to brave it and try it myself. I am very happy that I did, the smell is great. The texture of the shampoo is different to a typical shampoo. Felt like I was putting Strawberry Jelly/Jam in my hair! But the results were fantastic. My hair is usually tangled after washing, this made my hair not tangled and cleaned it a lot better than my usual shampoo and left my hair very soft.
AMAZING
This is my FAVORITE shampoo (and conditioner!) It smells amazing, makes your hair shiny, makes your hair soft, and I definitely have noticed a difference in my hair growth! My hair has grown about 4 inches since I started using it in February! My hair always looks great after using this shampoo and conditioner, also it has no harsh sulfates so it isn't even hard on the hair!
I loveee the Not Your Mother's range, I've been using the shampoo with the conditioner and it leaves your hair feeling and smelling really good, I also think it has made a difference to my hair growth aswell!
I wouldn't say there is really anything "wrong" with this shampoo and conditioner, it just didn't do anything for my hair. It just never gave me a great hair day, haha. I love sulfate free shampoos so I definitely think everyone should use one. But my hair did not grow or change in anyway over the 2 months I used this shampoo. It does smell like candy though!
i always come back to this shampoo. LOVE IT! It smells fruity, and includes ingredients that help with hair growth such as castor oil and biotin, have always loved sulfate free hair products so this being sulfate free is a huge plus!
LOVE IT SO MUCH, YOU NEEED TO GET THIS!!!!
i am soooooooooooo in love with this! it smells good, and makes my hair feel amazing. highly recomended!!!!!it felt so good on my hair and it made is smell so good. my hair felt so much better after using this a few times
In love.
i've always wanted to try this shampoo, but was a little skeptical. my hair is already pretty long but i've been trying to grow it out more and decided to try this. i love it! not only did it speed up the growth of my hair but it keeps it looking healthy and soft :) i currently don't use it, because i have color treated hair and am afraid to use it, but whenever i do use it i can definitely tell a difference. using this along with the conditioner is perfection 😍