Oil-Free Acne Stress Control Power-Clear Scrub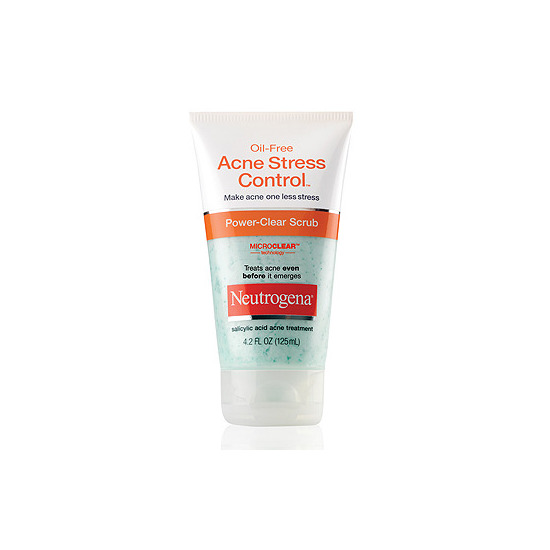 Rollover image to zoom
Reviews
So this product has been a part of my morning and night face wash routine and it has done wonders. My skin is prone to breaking out when I'm under stress. But this face wash dries off my breakouts and prevents them from turning into volcanic bumps. My skin always feels smooth and fresh right after using this. Also if you decide to try out this product make to put on a light moisturizer after because it can dry out your face.
I like it!!
Ive been use it this product about a year and I love it. Work very good on my skin, prevent breakouts, feels soo nice on my skin, clean my skin and I used twice a week! Dont leave it oily or dry! Its so nice!
Don't like it as much as . . .
The pomegranate is better and not as drying/irritating. I notice I couldn't wash my face as much with it. It was too drying and made my face red. If you have really greasy skin and an acne problem I would recommend it. But if you're just trying to just prevent use something more soothing.
After I purchased my first MAC foundation.... I broke out! I've never had so much pimples at the same time not even in high school. I always had a clear face with one or two pimples. And I ran into this and it worked in stopping breakouts. I live the feeling afterwords.
This product is great!! I love it! Not only does it smell wonderful but it works just as great!! It doesn't leave your skin oily. I was really stressed due to family divorce and court for it and this worked great help prevent breakouts and kept my skin clear!!
The best smell
Smells great, worked wonders, made me look healthier. My acne really did calm down by a surprising. I even got less blackheads. I've been using St.Ives Blemish & Blackhead control lately but I think I'll switch back to this one.
Great for sensitive skin
This product was great on my very sensitive skin. It's great for a daily wash, and keeps your pores feeling reduced and clean. I loved the way it smelled too. It doesn't dry out my face at all, and it doesn't scratch your skin when you use it. Will continue to use it for years to come!
Worked almost instantly!
I needed something to help my growing acne and fast. After a few washes with it i saw instant noticeable changes. I find it hard for products not to dry out my skin or make it oily, but this didn't. It also left my face feeling fresh and clean!
Definitely helps!
I'm not sure if it's my diet change, this face wash, or my new toner. But without the combination of the three I doubt my skin would be what it is right now. This is great for sensitive skin. It has a lovely, refreshing smell, & little beats that don't scratch your face! The little beats are actually soft and massage. It's very gentle and effective.
AMAZING
I have horrible shin (sensitive, acne,and Rosacea) this has began to clear up my blemishes after only 2 uses. I love it and I use it 2 times a day with the aveeno ultra-calming daily moisturizer. and it was in expensive which makes it even better!