Oil-Control Mattifier SPF 15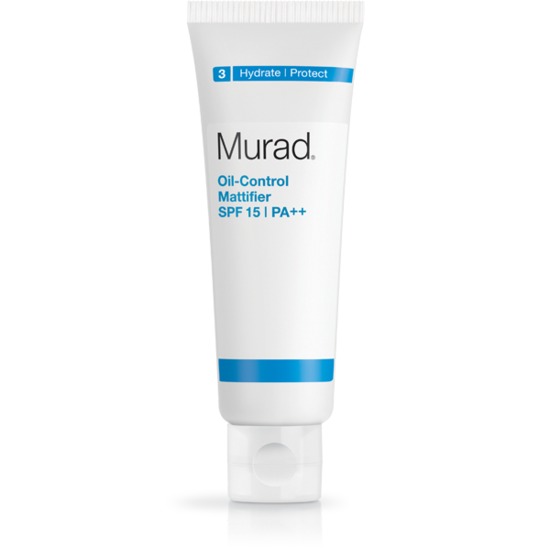 Rollover image to zoom
Reviews
Great Product
I've been using thus for a few months now and I have to say it is a pretty decent product. Most of the time it does exactly what it says it does. The cream keeps the skin on my face hydrated but it also doesn't clog my pores or add so much moisture that my face gets oily. My only small issue is that you have to be veeeeery careful how much you use. it took me a while to get the amount to spread right without getting the over moisturizing problem. I only need a very, very little bit at a time so it's worth the price. I have oily, acne prone skin but I also have eczema. Go figure.
I recommend this product to anyone who applies makeup everyday. It's a great under makeup moisture and SPF, as well as mattes the skin on contact for 8 hours.
In love!
My skin is super oily and sensitive and this product has worked wonders for me! My foundation would never really last because of my oily skin and I had tried a million primers with no luck. I'm glad I came across this mattifier! This not only makes my foundation last all day but it doesn't irritate my sensitive skin like other oil control products I've used. On days that I don't wear any make-up I feel that this is all I need to keep my skin feeling fresh and oil free! Completely love this product
Love!
This came in a acne kit that I bought, and while the other products were ok, I absolutely loved this! I have combination skin, but my t-zone, forehead, and eyelids are the most oily. I found that this product worked on all of those areas! I first started using it on my t-zone and it was great, but I was even more pleased to find that it worked on my eyelids. I had been looking for an eyelid primer that actually made my makeup stay all day, and even though this isn't a primer, it did the trick! Although, I would recommend being careful not to get it in your eyes... Burns!!!!
HAS BECOME ONE OF MY STAPLES!
I have extremely oily skin and I have tried it all. From powders to matte foundations and none of them seem to work for me. My co-worker was telling me how much she loved this stuff so I thought I'd go a head and just try it out and see why she loved it SO much haha. First reaction is that it's VERY thick and hard to apply. You really have to get in there and smooth it out. It has a herbal smell to it. Doesn't bother me at all but for other people it might. Once it's on your face the smell goes away. When I applied my foundation on I noticed it applied on a lot smoother and looked really matte. Usually the oil seeps through within minutes of application (yeah, thats how oily my skin is). My skin looked matte and the make up just look really good. I would say my face was oil free about 90% of the time. If you think about it thats really good. Only time I had to blot my face was literally at the end of the day. AMAZING product and will continue to buy.
I love this product! It reducing the oiliness of my skin by so much. I have extremely oily skin and I mean EXTREMELY oily skin. Literally without this product I will be at school for one hour and then have to go to the bathroom and blot my face. How embarrassing right? This is a lifesaver and I'm so happy to have found it. The only bad thing is the smell. It smells really bad like.. it's hard to describe but it's not pleasant but in my opinion so worth it!
I used this a few times because it was in my giant bag of samples that Ive collected over the last few months. For my skin, I don't like it. I can see why it is directed for people with more oily skin though. I have normal skin and I found that this was extremely thick and didn't spread or absorb into my skin nicely. I felt like to cover my entire face I had to use more than directed and it felt reallllly dry on my skin. But I feel like if I had oily skin it would be different and work well. It did however act as a great primer for my foundation! I wouldn't recommend this for someone with dry/normal skin.
I love this product. I have only been using it for about a month now but I have noticed that my skin feels a lot less oily throughout the day. The shine has also decreased!!