 Rollover image to zoom
Reviews
This is my go-to eyeliner. It goes on so easily and smoothly. With other liners it seems like I really have to work to get it to go on, but this one is effortless. For a $5 liner, hell for an eyeliner in general, I highly recommend it. I haven't found anything better yet. Did I mention it is insanely pigmented? None of this charcoal or dark gray crap, the black is very, very black.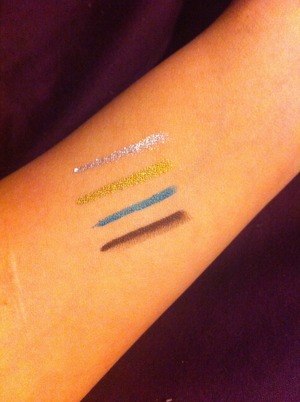 I love these eyeliners so much.
The packaging of these eyeliners says they are smooth with the application and that they are smudge-proof. Well they are both TRUE! They are also very pigmented. They only cause me a problem if I wear them on my waterline, they irritate my eyes. Which is why i didn't purchase the black one, however on my lash line and eyelid i have no problem. I do own all the other four and I'm very happy with them. You should definitely give them a try!!! ( I have a swatch of the eyeliners after rubbing them with my finger several times, and as you can see they are still intact)
Dec 12, 2012
Inky Black!
This is the blackest eyeliner I have. I love using it as a base for my eyeshadows because it won't crease! It's great to have for a smoked out winged liner because the black is so intense. It's creamy, smooth, and easy to work with. Once it sets it isn't moving. I just wish it would stay in my waterline, but then again UD pencils don't even work for me.
Jun 22, 2012
I was amazed at how good this product was, considering the price! It applies so easily, and stays on for hours (and products usually don't last that long on me). So impressed! Fantastic value for money, I just wish I was able to find these products in stores here.
Avis G.

Dec 14, 2011
LIFE SAVER
OMG OMG! I was discouraged to try anything from this brand because i tried the cream foundation YEARS ago. At that time I had no knowledge of face primer(i had oily skin). I will never judge a brand based on one product again. This liner is the smoothest thing to GLIDE on my eye. It has the softness of a creme liner..but in pencil form! Amazing liner Milani!
Apr 07, 2011
best black liner
Blacker than UD 24/7 zero, and has a better application. Goes on very smooth and you can blend it out a bit before it sets. It's smudge resistant and it works great for my water and tight line. I am on my second pencil now so it has definitely become a staple in my every day make up.
This pencil definitely beats out higher-end products, hands down. The price is ridiculously affordable, and the quality of it amazing. It's definitely darker than Smashbox & UD, and its staying-power is a plus (esp for a drugstore). You do have to be careful, as it is super soft & creamy.. kind of reminds me of MAC's Eye Kohl in "Smolder" (which is definitely MUCH darker than Milani's though), so a little goes a long way. Great investment if you haven't tried!
Kicks butt
I have the black liquify eye liner and it is my favorite. This kicks highend liners in the butt! It glides on smooth, easy to blend and does not crease. Its super pigminted and affordable.
Nov 27, 2013
wonderfully smooth and creamy, just glides on application, zero tugging or pulling on skin. pigmentation is really nice and it lasts all day. does smudge, but it is a pencil eyeliner and it's useful when you want to smoke out a line. perfect for lining the waterline, my eyes don't get irritated at all. pretty sure the formula is paraben-free, I think tocopherol is the preservative used. I want to try out some of the other shades next!