Eye Studio Master Precise Ink Pen Eyeliner Rollover image to zoom
Reviews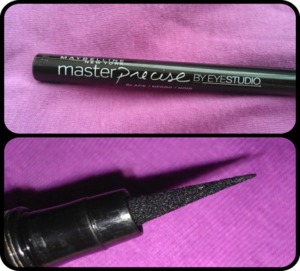 A new found LOVE!
I decided to pick this up on a whim while spotting it at CVS a couple of months ago. I'm usually very picky with my eyeliners. Let's just say that this eyeliner exceeded my expectations. The packaging is awesome, I think it's the perfect size, not too long and skinny and not too short. It is a liquid liner with a felt-tip. (I'm a fan of felt-tips) I have tried other drugstore liquid liners and this, by far, surpasses them all. I also didn't have much luck with the coveted L'oreal Lineur Intense eyeliner. I liked the Sephora Doe-eyed liquid liner which was similar, but I would have to go over my lines all the time to get that true black. A lot of times with felt lip liners, I feel like it's not as black as it should be after going over your lid with eyeshadow already applied. I have never experienced any drying or skipping like a lot of felt-tip liners, where you feel like you have to shake it to get the product going. I'd say as long as you keep the cap on when not in use, it'll be good to go every single time. This has been a staple in my kit since I've purchased it and so I also needed to get one for myself. It applies like a dream! The tip is long and not as short as MAC's Penultimate. Super black and very pigmented, which is hard to find in a really good liquid liner. I am able to get a perfectly lined eye everytime and with such ease and precision! This also lets you create that beautiful, sexy cat eye, perfectly every time! I was also in love with Urban Decay's liner in Perversion but I'm pretty certain I wouldn't go back to that since I've found this. Awesome quality at a fraction of the cost of higher-end brands. Try it! I doubt you'll be disappointed. ;)
Master Precise Says It All!
This product is so easy to use and you definitely have a lot of control with the product, I'm really impressed with it's staying power even though it's not waterproof I've never had a problem with panda eyes in the rain with this on my top lashline. Due to the ultra-thing brush tip of this product it makes it extremely easy to get right in to the last lash line to which allows you to not need to apply mascara to hide the bits of skin that remain uncovered unlike many eyeliners on the market that need mascara to fill in the gaps. Great and easy to use liquid eyeliner which is suitable for any look and any level of skill with make up. Such a great find, has become a staple in my rather small collection.
Best eyeliner I've used in a while.
The felt-tipped marker-esque applicator makes this a breeze to apply. There's no pulling or tugging and it's also super easy to get a clean, precise line or build it up to a thicker line. I'll definitely be repurchasing this.
Truly great!!!!
this is actually an outstanding eyeliner, i would buy it in bulk! it stays on and on! you can control how thin or thick you want the line to be and it makes playing around with your eye liner so great! I've had it for about a month now and its still working very well. i use it everyday. unlike the cover girl pen which dried out in 3 weeks! this i LOVE LOVE LOVE it replaced using gel liner for me for now :)
Favorite eyeliner... Ever!
So, I got this product not expecting it to as great as it is! I love the applicator tip that it has, which is a spongy like applicator. One thing i dont like it that the very tip doesn't work very well after using it for about a month. It stays on all day (and night if i need it to) and its so easy to apply. If you like doing cat eye or winged eye liner, its perfect with the tip!
What I've always wanted
I use liquid liner practically everyday. I tend to make mistakes when using a brush but with this felted fine tip I get perfect results every time. I have tried other pen liners but after finishing one lid it would start to run dry. With this product I had constant flow. I recommend this product one hundred times over and will be sticking with it till (if) something better comes along.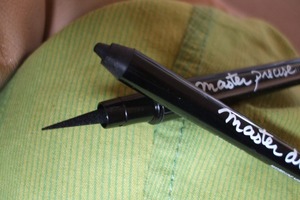 I honestly like this product.
I sadly only came across this product while shopping for makeup. Just so happened that i needed a new eyeliner. This product was on sale (best thing to) and i bought it, thinking and expecting fantastic results from the product, like you do. Thankfully in the end i really liked it. It has consistant coverage over the eye area, and the tip of the eyeliner is small enough and controlable enough that you can create, some magical eye looks. I have been using it for the last month and honestly, its done me well. My friends love it, and i have converted people who only used other liquid liners to come over and try and use this felt-tip liner.
Needs improvement, don't waste your money
I've been wanting to try a pen style for awhile. I found this one on sale near me so decided to go for it. Big mistake. The brush tip is very long, which makes it a bit hard to control. The very tip of the brush is also a bit dry. But I'm attributing that to how it's packaged. I store it (capped) with the point down and that seems to help a bit. It's not very long wearing. It is also not waterproof. It smudges very very easily. Within two hours what started off as a crisp, slightly winged, line became a smudgy mess and I was left looking a bit raccoon-ish. I have very oily skin, but even freshly washed with primer it still smudged far too quickly for my liking. Beyond that, it was nice and dark. Once I got the tip inked, it went on nice and easy. All in all, its ok, but for almost $8 each where I live...not really worth it.
Love of My Life
Anyone who knows me will understand my undying, passionate love for eyeliner. I have been using this one for years and have never looked back! I wear it just about every day- it's so versatile and you can create so many different looks with it because it is so easy to use. It lasts forever when stored properly (not too hot, not too cold, lid on when not in use, upside down). I always recommend this liner to those just beginning to experiment with liquid liner, because it's very affordable, can be found just about anywhere and everywhere, and you have much more control over your lines than with a pot and brush liquid liner. My only complaint would be that it only comes in black- classic and sexy, but I love the current bright eyeliner trend- blues, purples, etc, like in their new Colour Show pencil range. I absolutely adore this product and anyone and everyone should give it a try. If I could give it more than 5 stars I would!
THE BEST FELT TIP EYELINER!
This eyeliner is so black! It glides on so easy and is perfect for winged eyeliner as well as thin or thick lines! This eyeliner is also extremely pigmented! I highly recommend this eyeliner!