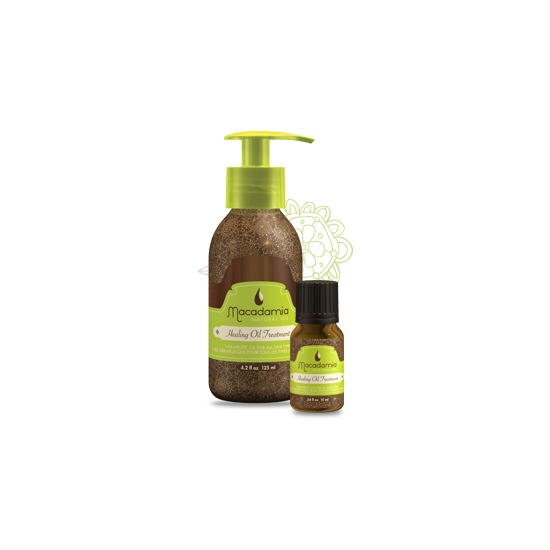 Rollover image to zoom
Reviews
I use this everyday =]
I spray this stuff on after I get out of the shower as well as if my ends feel dry throughout the day. Even though its an oil, I don't find it that greasy. I try to just spray it on my ends. I find that it doesn't smell like any of the other products from the line but it does smell amazing. I found mine at TJmaxx for just 12.99. I wish I would have stocked up.
This is so nourishing and moisturizing
I went to Miami for a few days and my hair got dry from the salt water and this product brought it right back to life. I use it mostly on my ends whenever they're dry. It works just as well as Moroccan oil. It also keeps hair smooth longer in humidity.
I love this stuff!! I love it smells and what it does for my hair. I just love everything about! A great product and is worth every penny.
Spicy!!
I love this oil. You only need a tiny amount and your hair is smooth, frizz-free and shiny. The scent, strong at first does dissipate. My bleached hair soaks it right in!! I wear it heavy overnight and wash it out the next day for deep hydration. Sold at salons only and Ulta locations with a salon, it is pricey but worth it. I have had the 1oz bottle for nearly a year and I still have half left. The brown glass vessel protects the integrity of the ingredients. I will replenish Healing Oil when it runs out, I love it.
My HG
I love this oil so much. I have pretty thick, dry hair so my hair drinks this stuff up. I use it multiple times throughout the day even and my hair never looks oily, just shiny and soft. And the smell lingers which is great because I'm in love with the smell too. I bought the 4.2 oz bottle with the pump which is so much nicer than pouring it out of the bottle. Lasts forever, too, so you get what you pay for.
thank god for samples
I bought this in a small sample which has lasted for months and months which is nice. and I absolutely loved it...at first. the scent was intoxicating an just melted me ever time I applied it :) best thing I have ever smelled in a product (personally). the way it was for my hair just rejuvinated it an I noticed my hair looked more strong an the ends looked much nicer. but I noticed after a month in a half the build up it left in my hair just destroyed my love for the product. my hair at the time was 2 toned an I was using my joico color endure shampoo an conditioner which I know added to the build up. but I have anti residue shampoo an I would use that once a week or ever 3 to 4 weeks to prevent the build up in my hair. but after all of that I noticed it stopped performing nicely and left me quit sad. it was once a blessing for my hair. and now because of the texture it left me with in my hair I decided to re cut my hair short. I know it wasn't the color that did it because I don't get it colored but so often. I just over worked products in my hair which isn't used to so much product attention. I think for my fine, frizzy curly waved hair.. its to much. I intend to finish this product but only use it once a month. I will not be repurchasing.
Macadamia Love
OMG I love this oil. I have thick coarse hair like no ones business lol, this oil makes my hair soft smooth and healthy. I have got Macadamia oil, Hair Mask and Curling Cream. All three of them is awesome. I will definitely buy it again once it finished.
great for hair, skin and spaced ears!
love this product ! I use it on my hair every 2-3 days and it seems to keep my hair healthy. When I go to the hair dressers they can't believe how healthy my hair is for how damaged it should be! I also would recommend this oil to anyone with spaced ears. I massage my ears with this oil every 2 days and haven't had a problem. my ears used to get infected because I was using a thick oil for lubrication but now I use this stuff and its wonderful :)!
Great Product! I use it every time I shower!
This was one the best products I've used for my hair! For a few years I used "Moroccan Oil" and a friend recommended this product, and I can honestly say it is well worth the price! I would recommend it to everyone. I have really thick hair and most products would just weigh down my hair and made it look very oily, but this product is amazing in the sense that it delivers the protection and healing to the hair without residue! Give it a try you will not be disappointed.
Awesome!
I have really thick, course hair, but this oil works great for me. It absorbs into my hair soo well without it making my hair look oily at all, not to mention it smells amazing!:)