Go 360 Clean Deep Facial Cleanser for Sensitive Skin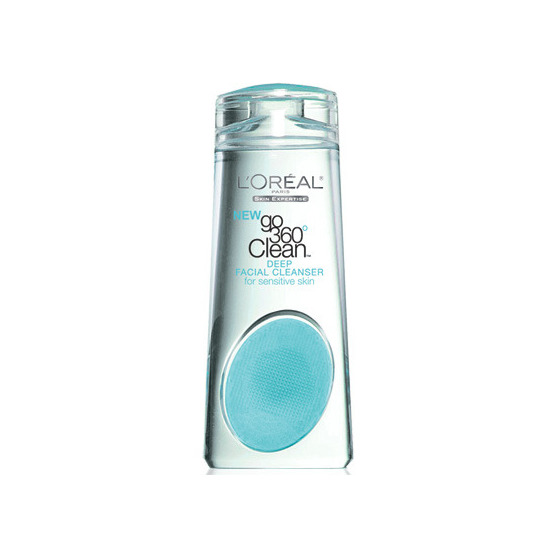 Rollover image to zoom
Reviews
so great
I love that you can use this morning and night: without the scruby in the morning, and with at night! non drying And doesnt aggravate acne! and for 6 dollars? try it!
Great for my sensitive skin!
I love this product for numerous reasons. The price is great and the cleanser does a great job at washing away make up, it's milky and gentle.The scrubber is cute and gets in there of taking away all the day grime and make-up. I will continue to buy this gem of a cleanser.
my favorite next to proactiv
i have sensitive skin and proactiv is the true miracle worker. i like using this before i use step 1 from proactiv. it really does wash your face off so that your face is perfectly clean. if you dont have acne i think this is probably the best cleanser you can get and use it by itself. plus for the cost, its a keeper. i also love the little brush thing it comes with, it does give your face that extra deepness of clean
The Best!
Hey hey hey!!!! smooth skin. MAAAAAANNNN when I am done with my day , this stuff gets the job done boy I tell you!!! I notice that when I dont wash my face, what ever un wanted pop up i get, this stuff gets rid of it almost right away.
Its a good everyday cleanser
The formulation of this product is amazing. It is extremely milky and gentle. It is formulated for sensitive skin, but it works great for oily skin as well. I think Loreal really did great releasing this product. The rubber insert is good to really massage the product into the skin. I have repurchased this about 7 times already. Definite must have.
I absolutely love this product. I have sensitive skin so it was nice to actually find a product that I could use daily without worry of breaking out. The scrubber makes it so much easier to get all of the makeup out of your pores.
I must use a daily moisturizer with this product though. For the most part I really like using the Go 360 Clean Deep Facial especially working in a dental lab, it is a must have.
Its a Keeper!
I usually only use L'Oreal for their makeup items so when I saw this cleanser I was intrigued. The first thing that attracted me to it was the rubber scrubber that you pop out to use with the cleaner. I thought that was innovative to have a 2 in one type product, and being able to click to rubber right back into the bottle when your done using it was a great idea. I have very sensitive skin so thats why I also chose the blue bottle, I liked the idea of using the scrubber even though the bottle was labeled "For Sensitive Skin." Most times people that have sensitive skin are told not to use scrubs or anything that will irritate the skin. I used this product in the shower and I loved it immediately! I even got my little sister hooked. The rubber applicator is very soft its not harsh at all, its easy to hold, doesnt slip, and feels like a massage on your face all while removing dead skin and created circulation on the face. Its gentle and smells nice. Its also a product that if you don't want to use the scrubber you don't have to, you can simply just use the cleanser. I would 100% reccomend this product to anyone!
I was so excited when i first bought this. Then i started using this, and the scrub every few days and it started making my skin really dry. I usually have normal skin so when i started noticing how dry my skin was becoming i stopped using this immediately.
I was hoping for more.
I like this product but I would give it 3 stars. It really gets the job done when it comes to cleaning and the little scrubby pad is so cute and soft but it doesn't really do much. I have dry spots that i need to scrub when I wash to get the dead skin off but this pad does not help at all with that. I end up having to use a wash cloth to get the dead skin off without having to use an exfoliating scrub (i only like to use the scrub once a week but i need to get this dead skin off more often then that). I was really hoping I could put better use to the scrubber pad but I guess it would be better for someone who doesn't need to exfoliate as often as I do. BUT.. it is perfect to just clean off your makeup.