BIENFAIT MULTI-VITAL - SPF 30 CREAM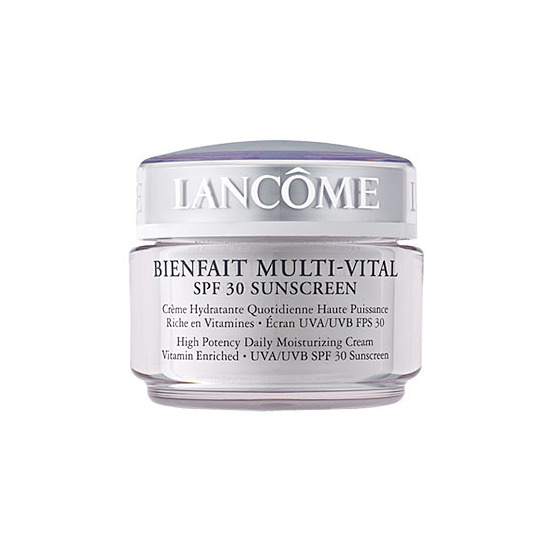 Rollover image to zoom
Reviews
My all time favorite.
I got this as a sample from Sephora and I fell in love. The sample size itself was huge and lasted me a while. My skin is very dry and sensitive so I was nervous to use the product but I was blown away by it! A little goes a long way with this. I put in on the morning and my skin feels amazing all day long. My skin never gets that weird dry and flaky feeling in the middle of the day like it did with other moisturizers. I love the smell too!! I will purchase this over and over again. It is pricey but I think that it is well worth the $45.
Generous sample of a nice product- but heavy floral scent
I got a sample of this when I took a gander around Macy's a few weeks ago. I was shocked at how generous the counter lady was- practically pelting me with samples that seemed more full-sized than anything you could call mini! This sample was 0.5 OZ. but that seems like a pretty decent amount. The packaging is so sophisticated, and glamorous, with a golden bronze cap with flower embossed logo on the top, and lovely lettering throughout the sturdy glass tub and cap. The creme is very thick, opaque and white in color. The fragrance was a little overwhelming at first, but I've since gotten used to it. Its a heavy floral scent, so keep that in mind. This might not be a product to splurge on, especially if you're sensitive to heavy perfumes. It leaves a subtle sheen/shine to the skin with some lingering perfume. I like that this has such a high SPF, but I'm not certain I would rely solely on this for facial sun protection. I think this would make a good MU base/primer because its so silky smooth and has that added SPF benefit, but I would add an even higher SPF product over this, if you're gonna be out in the sun, barefaced. This sinks into the skin very nicely, I love the texture and feel- its so creamy, rich and thick- but not too heavy or balmy. See if you can get a sample to really know how you feel about it- my sample will last me a good while. I'm glad I went to Macy's- without even purchasing anything from any other surrounding makeup counters!