Kiehl's Ultra Facial Cleanser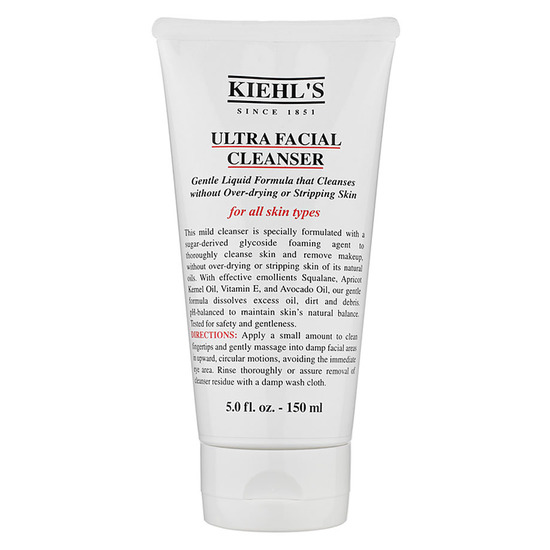 Rollover image to zoom
Reviews
Definitely for ALL skin types.
Starting off, this cleanser is amazeballs. I love how after I use it my face feels super clean. I got the sample size a few months ago, which I lost, so I decided to get the large one. The price is alright considering the amount you need to use and the size of the bottle. I got it for around $23.00 in Indonesia, and I guess it's way cheaper in the US. This cleanser is for all skin types but different skin types have a different way of cleansing with this cleanser. For skin that leans more to the dry side, apply the cleanser on your face in a circular motion thoroughly especially in the hard to get areas such as the sides of your nose, after that, use a damp towel and pat off the cleanser. This prevents your skin from being too dry. For skin that leans more to the oily side, apply like normal, and wash it off with water. This cleanser is super versatile in the winter and in the summer because there's two ways to cleanse your skin depending on your situation :)
This may be the top cleanser for normal skin in Allure's Best of Beauty 2011, but it's not very healthy!
Check out this review of Kiehl's Ultra Facial Cleanser: http://bit.ly/s3wlQL This product gets a hazard rating of 5 out of 10! Did you know that METHYLPARABEN can cause: Endocrine disruption, Allergies/immunotoxicity, Organ system toxicity (non-reproductive), and Biochemical or cellular level changes? And PROPYLPARABEN can cause: Developmental/reproductive toxicity, Endocrine disruption, Allergies/immunotoxicity, Organ system toxicity (non-reproductive), and Ecotoxicology? Other not-so-pretty ingredients include: TRIETHANOLAMINE and MYRISTYL MYRISTATE